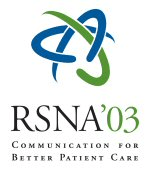 Abstract Archives of the RSNA, 2003
Francesca Maccioni MD,
PRESENTER: Nothing to Disclose
Abstract: HTML Purpose: To investigate the diagnostic value of MRI in the assessment of Ulcerative Colitis (UC) in comparison with endocoscopy and /or surgery. Methods and Materials: 27 consecutive patients with UC underwent MRI. In 11/27endoscopy was incomplete or impossible to perform due to strictures. MRI was performed after oral administration of a superparamagnetic contrast agent, using standard sequences (HASTE T2-weighted, with and without fat-suppression and Gd-enhanced T1-weighted FLASH). The colon was distended by air in 17/27 pts. Morphological evaluation included disease extension, bowel wall thickness, lost of haustration, widening of the recto-sacral space, presence of strictures and any other complication; inflammatory activity was assessed by considering the degree of wall Gd-enhancement and T2-signal. For morphological evaluation Gold Standards (GS) were endoscopy and/or surgery, whereas pathology specimens were GS for disease activity. Results: Nine patients underwent surgery. MRI correctly assessed the extension of the disease in 22/27 pts; in 4 pts the disease was underestimated respect to colonoscopy, in 1 cases was not detected at all (quiescent disease). All patients with severe to moderate disease were correctly evaluated by MRI. The T2-signal and Gd-enhancement of the wall was found related with the degree of endoscopic and pathologic activity in 85% of the patients. In 12% of patients MRI showed complications (tight strictures, adhesions, 2 ovarian involvements). In 15% of patients MRI significantly affected the surgical planning. Conclusion: MRI can offer reliable information on the different aspects of UC (extension, activity and complication). Questions about this event email: francesca.maccioni@uniroma1.it
Maccioni MD, F, Role of MR Imaging in the Clinical Management of Patients with Ulcerative Colitis. Radiological Society of North America 2003 Scientific Assembly and Annual Meeting, November 30 - December 5, 2003 ,Chicago IL.
http://archive.rsna.org/2003/3104614.html