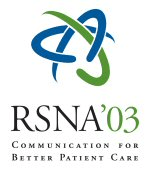 Abstract Archives of the RSNA, 2003
Stefan Ruehm MD,
PRESENTER: Nothing to Disclose
Abstract: HTML Purpose: The aim of this study was to assess MR colonography MRC for the detection of colonic polyps/malignancy and to compare it with conventional colonoscopy CC. Methods and Materials: 120 subjects with suspected colonic lesions were prospectively included in this study undergoing MRC and subsequent CC on the same day. For MR colonography the colon was filled in prone position with approximately 3000 ml of tap water while a dosage of 0.2 mmol/kg body-weight of Gd-BOPTA (Multihance, Bracco/Italy) was intravenously injected. Imaging was performed on a 1.5T MR scanner (Magnetom, Siemens). A T1-w 3D VIBE sequence was acquired before and 75 sec after contrast administration. Results: MR colonography was well tolerated by all patients. CC revealed a total of 27 polyps in 22 patients, with 18 (66%) lesions smaller than or equal to 5 mm in diameter and 9 (340%) larger than 10 mm. Two of the small polyps ( 5-mm-diameter) were overlooked at MR colonography, but all large polyps (>5-mm) were correctly identified, resulting in an overall sensitivity/specificity of 93%/100% for the detection of large polyps (>5-mm). In 5 patients with colorectal cancer and 26 patients with inflammatory disease the findings of the MRC examination were correct. Conclusion: The MR colonography concept based on a dark colonic lumen and a bright colonic wall. It suggests a higher accuracy in detecting polyps, a better evaluation of other parenchymal organs as well as a reduced time needed for data acquisition and analysis. Questions about this event email: stefan.ruehm@uni-essen.de
Ruehm MD, S, Dark Lumen MR Colonography: Comparison with Conventional Colonoscopy. Radiological Society of North America 2003 Scientific Assembly and Annual Meeting, November 30 - December 5, 2003 ,Chicago IL.
http://archive.rsna.org/2003/3103972.html