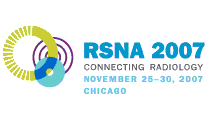 Abstract Archives of the RSNA, 2007
SSJ16-05
A New Package and the Evaluation of Detectors for Display and Projector Luminance Response Curve Calibration against the DICOM Part 14 Grayscale Standard Display Function (GSDF)
Scientific Papers
Presented on November 27, 2007
Presented as part of SSJ16: Physics (Visualization, Displays, PACS)
Andrew Reilly,
Presenter: Nothing to Disclose
Nick Weir PhD,
Abstract Co-Author: Nothing to Disclose
With widespread adoption of PACS it is essential that robust quality assurance programs are established, including verifying and maintaining compliance of the luminance reponse curve with the DICOM GSDF. However, this can be time-consuming, difficult and may require expensive instrumentation. A package has been developed to enable rapid calibration and verification of any display or projector. It has the advantage of working with a range of luminance detectors, allowing easy deployment across large organisations. A new inexpensive chromaticity meter is evaluated with this package against the AAPM TG18 instrumentation performance criteria.
Two measurement instruments were employed in this study: a Scanditronix-Welhofer LXPlus luminance meter and a Gretag Macbeth i1 Display contact chromaticity pod. The i1 Display is an inexpensive device aimed at the consumer market but a comprehensive development kit is available. Software was written to interface with generic telescopic and contact detectors, including both of these devices. Grayscale test patches are automatically displayed, the response curve measured and a driver look-up table (LUT) calculated. Ambient light is taken into account and the LUT can be saved for automatic application on boot-up.
Luminance measurements with the i1 Display agreed with those of the LXPlus for a range of CRT and LCD devices to within 1% under all conditions. Both devices were used to successfully calibrate a range of displays. Because the control software works automatically it was possible to perform in-depth time-trend assessments of display performance during warm-up. Modern consumer grade displays intended for review work were found to stabilise within only a few minutes. The LXPlus was also used in telescopic mode to directly calibrate standard consumer grade projectors to within the AAPM criteria for secondary display devices.
The i1 Display chromaticity pod is suitable for medical display GSDF calibration and the LXPlus can be directly used for projector calibration.
A new inexpensive chromaticity pod facilitates display evaluation across large organisations and the LXPlus provides a new method of calibrating projectors.
Reilly, A, Weir, N, A New Package and the Evaluation of Detectors for Display and Projector Luminance Response Curve Calibration against the DICOM Part 14 Grayscale Standard Display Function (GSDF). Radiological Society of North America 2007 Scientific Assembly and Annual Meeting, November 25 - November 30, 2007 ,Chicago IL.
http://archive.rsna.org/2007/5016670.html