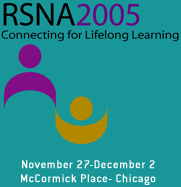 Abstract Archives of the RSNA, 2005
Rahyeong Juh,
Presenter: Nothing to Disclose
Chang-Uk Lee MD,PhD,
Abstract Co-Author: Nothing to Disclose
Chi-Un Pae MD,PhD,
Abstract Co-Author: Nothing to Disclose
TaeSuk Suh PhD,
Abstract Co-Author: Nothing to Disclose
Boyoung Choe PhD,
Abstract Co-Author: Nothing to Disclose
Impaired processing of working memory information is one of the cognitive deficits seen in patients with schizophrenia. This aimed at corroborating the differences in the brain activities involved in the process of working memory between patients with schizophrenia and the control subjects.
Twelve patients with schizophrenia were recruited along with twelve demographically matched healthy volunteers as a control group. Functional magnetic resonance imaging (fMRI) was used to assess cortical activities during the performance of a 1-back visual working memory paradigm using the Korean alphabet as mnemonic content.
Group analysis revealed that left lateral prefrontal cortex and right parietal lobule showed decreased cortical activities in the patient group. On the other hand, an increased activation in left superior and middle frontal gyrus, left middle temporal gyrus, right cuneus, both occipital lobes, right fusiform gyrus and right cingulate gyrus. The activation in left anterior lobe and both declive of cerebellum was also increased.
This study showed a decreased activation in prefrontal and parietal neural networks from the patient group and confirmed the earlier findings on the impaired working memory of patients with schizophrenia using fMRI investigation.
Juh, R, Lee, C, Pae, C, Suh, T, Choe, B, Impaired Connectivity during Working Memory Task between Patients with Schizophrenia and the Control Subjects. Radiological Society of North America 2005 Scientific Assembly and Annual Meeting, November 27 - December 2, 2005 ,Chicago IL.
http://archive.rsna.org/2005/4413820.html