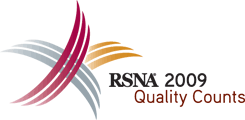 Abstract Archives of the RSNA, 2009
LL-OB4806-R10
Non-Gynaecological Pelvic 'Masses' Presenting to the Gynaecologist
Education Exhibits
Presented on December 3, 2009
Robert James Johnson BSC, MBChB,
Presenter: Nothing to Disclose
Angharad Meleri Eynon MBBCh, FRCR,
Abstract Co-Author: Nothing to Disclose
Sathi Anandan Sukumar MD,
Abstract Co-Author: Nothing to Disclose
Yatin Jain MBBCH, MRCS,
Abstract Co-Author: Nothing to Disclose
Non-gynaecological masses arising in the pelvis may masquerade as gynaecological pathology with a potential delay in appropriate diagnosis and management. The purpose of this exhibit is to familiarise the viewer with the multimodality imaging appearances of these pelvic masses proven to be non-gynaecological by histology or follow-up.
Review of pelvic anatomy with particular attention to differentiating: Gynaecological from non-gynaecological masses Intraperitoneal from extraperitoneal masses. The imaging appearances of a variety of non-gynaecological pelvic masses are reviewed, with pathological correlation where available, including: Schwannoma & arachnoid cyst Lipoma & Spigelian hernia Lymphocele & haematoma Hydronephrosis Appendix mucocele Sigmoid mesenteric & peritoneal inclusion cysts amongst others.
Teaching points: Non-gynaecological pelvic masses may present to the gynaecologist and present a challenge to the unwary radiologist. Imaging plays an important role in determining the correct diagnosis of these lesions thus facilitating appropriate management.
Johnson, R, Eynon, A, Sukumar, S, Jain, Y, Non-Gynaecological Pelvic 'Masses' Presenting to the Gynaecologist. Radiological Society of North America 2009 Scientific Assembly and Annual Meeting, November 29 - December 4, 2009 ,Chicago IL.
http://archive.rsna.org/2009/8003707.html