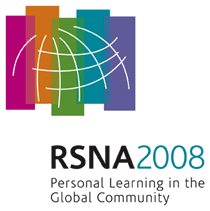 Abstract Archives of the RSNA, 2008
SSC19-02
Breast Brachytherapy Improves Cosmetic Outcome and Reduces the Risk of Capsular Contracture in Breast Conservation Therapy for Women with Breast Cancer in the Presence of Augmentation Mammoplasty
Scientific Papers
Presented on December 1, 2008
Presented as part of SSC19: Radiation Oncology and Radiobiology (Breast)
Robert Raymond Kuske MD,
Presenter: Consultant, Nucletron BV Advisory Board, Nucletron BV
The number of women seeking breast augmentation has been dramatically increasing. According to the American Society of Plastic Surgeons, more than 364,610 women in the United States underwent elective augmentation in 2005. The number in 1991 was 38,650, so over the past 14 years there has been a staggering 894% increase in the number of augmentation mammoplasties, or 64% more per year on the average. An estimated 48,910 women undergoing augmentation each year will develop breast cancer at some time in their lifetime. By their nature, these women have demonstrated a personal priority on appearance and cosmetics, but currently the accepted treatment for breast cancer in patients with implant augmentation is skin-sparing mastectomy with axillary dissection and implant exchange. The primary reason for avoidance of BCT in augmented women is the 45-67% risk of capsular contracture after whole breast irradiation. The increased rate of capsular contracture with radiotherapy is most likely due to the deposition of collagenous scar tissue around the implant after whole breast irradiation. Since brachytherapy exposes only a small portion of the surface area of the implant to radiation, it is possible that the rate of capsular contracture might be reduced by partial breast irradiation (PBI) with brachytherapy.
Between 2001 and 2006, 35 women with stage Tis, T1-T2, N0-1M0 breast cancers were treated with accelerated PBI The dose prescription was 34 Gy in 10 twice-daily fractions (separated by > 6 hours) over 5 treatment days, given with high dose rate Iridium-192 brachytherapy. The prescription point and target volume was 2 cm beyond the lumpectomy cavity. Interstitial multicatheter brachytherapy was preferred because the breast tissue tends to be thin over the augmentation, making insertion of a balloon technically impractical. Follow-up was 0.5-5 years, median 16 months
All patients completed therapy as planned. Dose homogeneity index ranged between 0.60 and 0.93, median 0.80. The 90% isodose covered 96% of the target volume on the average (range 88.2% - 99.7%). Capsular contracture was not observed in any patient during follow-up. Cosmetic outcome has been 95% excellent, 9% good, 0 fair, 0 poor. No patient has experienced an in-breast or nodal recurrence.
Our results with breast brachytherapy are in sharp contradistinction to reports in the literature with WBI noted above. The markedly improved cosmetic outcomes and reduced capsular contracture rates are likely due to the lack of circumferential dose to the foreign body in the breast, the augmentation implant.
Kuske, R, Breast Brachytherapy Improves Cosmetic Outcome and Reduces the Risk of Capsular Contracture in Breast Conservation Therapy for Women with Breast Cancer in the Presence of Augmentation Mammoplasty. Radiological Society of North America 2008 Scientific Assembly and Annual Meeting, February 18 - February 20, 2008 ,Chicago IL.
http://archive.rsna.org/2008/7001995.html