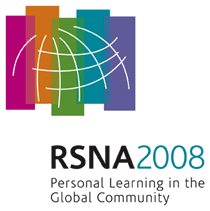 Abstract Archives of the RSNA, 2008
Rachel Frydman Brem MD,
Presenter: Board of Directors, iCAD, Inc Consultant, iCAD, Inc Stockholder, iCAD, Inc Stock options, iCAD, Inc Board Member, Dilon Technologies LLC Consultant, Orbotech Ltd
Cimmie Shahan MD,
Abstract Co-Author: Nothing to Disclose
Jocelyn A Rapeyea MD,
Abstract Co-Author: Nothing to Disclose
To determine how often breast specific gamma imaging (BSGI) identifies clinically and mammographically occult cancerous lesions in women with one suspicious or cancerous lesion detected on mammogram or physical exam.
Retrospective review was performed of records of all patients who had BSGI examinations performed from January 1, 2004 though June 4, 2007. Among these, 159 women had only one suspicious or cancerous breast lesion on physical exam and/or mammography, underwent BSGI to evaluate for occult cancerous lesions in the breasts, and were proven by pathology to have one or more foci of breast cancer. BSGI examinations were prospectively classified as normal or abnormal based on the presence of focal radiotracer uptake. BSGI findings and medical records were reviewed to determine the frequency of detecting additional sites of abnormal uptake and of detecting clinically and mammographically occult cancerous sites.
BSGI detected an additional suspicious lesion occult to mammogram and physical exam in 46 women (29%). BSGI identified clinically and mammographically occult cancer in 14 of 39 women who had a biopsy or prophylactic excision due to BSGI findings (36%) and in 14 women who underwent BSGI in this study (9%), including nine women in whom the occult cancer was present in the same breast as the index lesion (6%) and six women in whom the occult cancer was found in the contralateral breast (3%).
BSGI is be an effective imaging modality in the identification of mammographically and clinically occult foci of breast cancer.
BSGI is an emerging technology as an adjunct imaging modality. This study demonstrates that BSGI is an effective method of identifying occult breast cancer.
Brem, R, Shahan, C, Rapeyea, J, Breast Specific Gamma Imaging in Women with One Suspicious or Cancerous Breast Lesion. Radiological Society of North America 2008 Scientific Assembly and Annual Meeting, February 18 - February 20, 2008 ,Chicago IL.
http://archive.rsna.org/2008/6011039.html