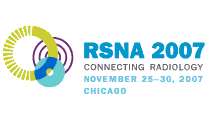 Abstract Archives of the RSNA, 2007
Stephan Ruggiero,
Presenter: Nothing to Disclose
Gerald Weisser,
Abstract Co-Author: Instiutional grant support, Apple Inc, Europe
Wolfgang Neff MD, PhD,
Abstract Co-Author: Nothing to Disclose
In Germany, the measurement at viewing distance only, according to DIN 6868-57, is required when testing report monitors for quality assurance. This method requires expensive equipment and allows a combined quantification of both the emitted light from the monitor and reflected light from the display surface. Other methods (AAPM, IEC) rely on complex separate measurements of both reflected and emitted light, some of the methods can be performed with inexpensive on-screen devices. The aim of this study was to evaluate the comparability of two different calibration and testing device types (on screen and at viewing distance) for different testing procedures and conditions.
Three different calibrated measurement devices were used. Individual look-up tables for the realization of two different grayscale display functions (DICOM, CIE) on more than 30 displays of different vendors and types (color/grayscale flatscreen displays, glossy/non-glossy notebook displays, 8bit/10bit devices). Luminance, contrast, homogeneity and JND resolution were analyzed at different environmental lightning conditions.
Under certain conditions, the different measurement techniques lead to comparable results. However, significant differences were found for certain levels of ambient light and different screen types (glossy screens), i.e. regarding the display of darker grey levels.
Under certain conditions, (comparatively inexpensive) on-screen measurement devices can be used for the calibration and quality control of medical report monitors. The tests showed, that after calibration some of the non-dedicated consumer displays may legally be used for reporting in radiology, too.
The results of the study help radiologists to decide which measurement techniques, monitor types and quality assurance testing intervals may be suitable for their individual setting.
Ruggiero, S, Weisser, G, Neff, W, Comparison of Calibration and Testing Methods for Radiology Report Monitors. Radiological Society of North America 2007 Scientific Assembly and Annual Meeting, November 25 - November 30, 2007 ,Chicago IL.
http://archive.rsna.org/2007/5013492.html