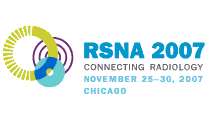 Abstract Archives of the RSNA, 2007
Joanna Lowe BSc,
Presenter: Nothing to Disclose
Mark Mc Entee,
Abstract Co-Author: Nothing to Disclose
Patrick C. Brennan PhD,
Abstract Co-Author: Nothing to Disclose
John Mark Ryan PhD,
Abstract Co-Author: Nothing to Disclose
Accuracy of radiological reporting is dependent on display characteristics. In the soft-copy environment it is well established that monitors of varying type have different display characteristics, however it is often assumed that monitors of the same type and age perform similarly. The current work tests the consistency of 20 uncalibrated Hewlett Packard LCD monitors (model L1702) purchased 24 months ago.
Twenty 1k Hewlett Packard LCD monitors (model L1702) typical of those found within radiology and hospital environments for the viewing of radiological images, were assessed using the 1K resolution TG18QC test pattern described in the AAPM report. Quantitative data for maximum (MXL), minimum luminance (MNL), luminance uniformity (LU), veiling glare and spatial resolution were recorded. Inter-monitor variance was noted. The monitor with the lowest compliance to AAPM standards was then calibrated using a VeriLum system to test the impact of GSDF calibration.
Variation between uncalibrated monitors was large with MXL and MNL varying between 23.4-86.6Cdm2 and 0.22-0.6Cdm2 respectively. Minimum:maximum ratios between monitors for luminance reflection and veiling glare was 1:1.3. Following calibration substantial improvements was noted for all parameters.
Substantial variations in display characteristics were shown for the same type of soft copy monitor, of the same age, with the same manufacturer specifications. The levels of variation were sufficiently large to impact on diagnostic efficacy. Improvements noted for several metrics after GSDF adherence demonstrate the importance of regular calibration.
Off the shelf soft copy monitors display inherent variations. The importance of calibration to standardize display characteristics is emphasized.
Lowe, J, Mc Entee, M, Brennan, P, Ryan, J, Variances in Display Characteristics of Soft Copy Monitors with Same Specifications. Radiological Society of North America 2007 Scientific Assembly and Annual Meeting, November 25 - November 30, 2007 ,Chicago IL.
http://archive.rsna.org/2007/5010980.html