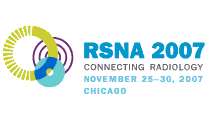 Abstract Archives of the RSNA, 2007
SSC07-01
F-18 fluorodeoxyglucose (FDG) Positron Emission Tomography and Computed Tomography (PET/CT) in the Initial Staging of Inflammatory Breast Cancer
Scientific Papers
Presented on November 26, 2007
Presented as part of SSC07: Nuclear Medicine (PET/CT in Breast and Genitourinary Malignancies)

Trainee Research Prize - Fellow

Selin Carkaci MD,
Presenter: Nothing to Disclose
Homer Aquino Macapinlac MD,
Abstract Co-Author: Consultant, General Electric Company Consultant, Siemens AG
Massimo Cristofanilli MD,
Abstract Co-Author: Nothing to Disclose
Huong Thien Le-Petross MD,
Abstract Co-Author: Nothing to Disclose
Ana M. Angullo-Gonzales MD,
Abstract Co-Author: Nothing to Disclose
Wei Tse Yang MD,
Abstract Co-Author: Nothing to Disclose
To evaluate F-18 fluorodeoxyglucose (FDG) positron emission tomography (PET) and computed tomography (CT) in the initial staging of inflammatory breast cancer (IBC).
30 women, mean age 49 years (range, 25 to 70 years), with newly diagnosed IBC who had FDG-PET/CT at diagnosis were recrutied in this IRB approved retrospective study. All PET/CT images were analyzed visually and semi-quantitatively by two physicians. The maximum standardized uptake value (max SUV) in the primary breast, regional nodal (axilla [AX], infraclavicular [IC], supraclavicular [SC]) and extranodal regions was documented. A max SUV >2.5 was considered abnormal for statistical analysis. CT criteria for malignant nodes included short axis diameter > 1 cm. Accuracy of PET/CT was compared to histopathology or concurrent supplementary imaging where available.
All patients presented with unilateral IBC. Predominant pathologic type was invasive ductal cancer (27/30, 90% patients). Clinical presentation included swelling and skin erythema in all patients. No breast mass was palpable in 20/30 (66%) patients. PET/CT showed hypermetabolic uptake in the affected breast in 29/30 (97%) patients with multicentric distribution in 73% (22/30), and hypermetabolic skin thickening in all patients. Pathologically confirmed regional nodal disease was detected in 29/30 (98%) patients. 13/30 (43%) patients were found to have distant metastasis on PET/CT. Disease sites included bone, liver, contralateral AX, IC, SC nodes, mediastinal and abdominal nodes, lungs, chest wall, pelvis. Biopsy confirmation of metastases was available in 4/13 (31%), and supplemental confirmatory imaging in 9/13 (69%) patients. There were two false negatives for ipsilateral regional nodal disease (AX and SC respectively), sensitivity 93%, NPV 33%. There was one false positive cardiophrenic angle mass (max SUV 5.3) that was benign on biopsy, specificity 94%, PPV 92%.
PET/CT is useful in the initial staging of IBC and provides information on loco-regional and global disease.
PET/CT demonstrates in breast, regional nodal, and distant disease in IBC patients at initial diagnosis and aids in therapeutic planning.
Carkaci, S, Macapinlac, H, Cristofanilli, M, Le-Petross, H, Angullo-Gonzales, A, Yang, W, F-18 fluorodeoxyglucose (FDG) Positron Emission Tomography and Computed Tomography (PET/CT) in the Initial Staging of Inflammatory Breast Cancer. Radiological Society of North America 2007 Scientific Assembly and Annual Meeting, November 25 - November 30, 2007 ,Chicago IL.
http://archive.rsna.org/2007/5005595.html