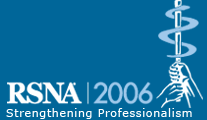 Abstract Archives of the RSNA, 2006
SSM01-05
Ultrasound-guided Percutaneous Placement of Balloon Catheters for Partial Breast Irradiation (PBI) after Lumpectomy for Breast Cancer
Scientific Papers
Presented on November 29, 2006
Presented as part of SSM01: Breast Imaging (Interventional)
Lora Duyan Barke DO,
Presenter: Nothing to Disclose
Ellen Bachman Mendelson MD,
Abstract Co-Author: Advisory Board, The Medipattern Corporation, Toronto, ON, Canada
Judith A. Wolfman MD,
Abstract Co-Author: Nothing to Disclose
Krystyna Danuta Kiel MD,
Abstract Co-Author: Nothing to Disclose
To report our experience in adapting US-guided interventional techniques for percutaneous placement of a new therapeutic device for brachytherapy following lumpectomy in early stage breast cancer.
Between 5/02 and 4/06, 75 new breast cancer patients eligible for PBI with brachytherapy were referred for placement of a PBI balloon catheter (MammoSite,® Cytyc Corp., Marlborough, MA). Tumor criteria for PBI included tumor size 6mm) and adequate seroma size. Ultrasound was performed 7-47 days after lumpectomy. If eligible, a PBI catheter of appropriate balloon size and shape was inserted to conform to the lumpectomy cavity. The balloon was inflated with saline and contrast medium, and skin-to-balloon distance remeasured. CT based dosimetry to determine dwell position of high-dose rate Iridium-192 sources (HDR) and dose distribution was done that day. 10 fractions with twice-per-day brachytherapy over 1 week were delivered. Medical records and US images of both ineligible patients and those successfully treated with PBI were reviewed retrospectively.
44 (59%) of those scanned met US-eligibility criteria for PBI. Inadequate skin-to-seroma distance was the most common cause of ineligibility (31/33, 94%), related to surgical closure. Of the 35 patients in whom catheters were placed, 34(97%) completed PBI. Although ultrasound demonstrated sufficient tissue thickness, 1 patient was ineligible due to inadequate tissue thickness at CT-simulation. No immediate complications occurred at insertion. Replacement of a ruptured balloon catheter occurred in 1 patient. Including preparation time, the procedure averaged 25 minutes.
US-guided percutaneous placement of PBI balloon catheters is safe, efficient, and minimally invasive. As opposed to surgical placement at lumpectomy, it allows time for pathologic analysis and patient decision.
Although the PBI balloon catheter is often placed intraoperatively, US-guided percutanous placement may be preferable in this new and increasingly utilized method in breast conserving brachytherapy.
Barke, L, Mendelson, E, Wolfman, J, Kiel, K, Ultrasound-guided Percutaneous Placement of Balloon Catheters for Partial Breast Irradiation (PBI) after Lumpectomy for Breast Cancer. Radiological Society of North America 2006 Scientific Assembly and Annual Meeting, November 26 - December 1, 2006 ,Chicago IL.
http://archive.rsna.org/2006/4432848.html