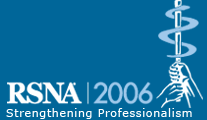 Abstract Archives of the RSNA, 2006
LL-BR4218-B01
Initial Results of Breast Real-time Elasticity Imaging to Characterize Lesions
Scientific Posters
Presented on November 26, 2006
Presented as part of LLBR-B: Breast
Richard Gary Barr MD, PhD,
Presenter: Consultant, Siemens AG Consultant, Koninklijke Philips Electronics NV Grant, Bracco Group Grant, Bristol-Myers Squibb Company
To evaluate a real-time, free hand, elasticity imaging technique in breast ultrasound to characterize benign from malignant lesions.
72 lesions in 49 patients were evaluated with a new real-time, free hand, elasticity image technique. Images were obtained with modified Elegra or Antares Ultrasound systems(Siemens Ultrasound). Lesions included both benign (cysts, complicated cysts, fibroadenomas, lipoma,epidermoind cyst, etc.) and Malignant Lesions. All solid lesions or complex cystic masses were biopsy proven or stable for 2 years. Image characteristics for different pathology were recorded. Lesions were measured for the largest length on both the fundamental and the elasticity image. Lesions where the elasticity image was smaller than the fundamental image were characterized as benign and lesions where the elasticity image was larger was characterized as malignant.
A total of 56 benign and 16 malignant lesions were evaluated from 49 patients. Based on the change in lesion size between the elasticity image and the fundamental image 56 of the 56 benigns were classified as benign and 16 of the 16 malignant lesions were characterized as malignant (sensitivity 100%, specificity 100%). Characteristic elasticity patterns for specific pathology were identified. Based on elasticity signal amplitude tissue characterization was possible.
Initial results of real-time, free hand elasticity imaging in breast imaging suggest this technique has a high sensitivity and specificity for characterizing lesions as benign or malignant. Characteristic strain patterns are identified in various pathologies. A large multi-center study is required to confirm these inital findings and determine accuracy of this new imaging technique.
Initial results of this real-time, free hand, elasticity image suggest this technique can characterize lesions as benign or malignant with high sensitivity and specificity.
Barr, R, Initial Results of Breast Real-time Elasticity Imaging to Characterize Lesions. Radiological Society of North America 2006 Scientific Assembly and Annual Meeting, November 26 - December 1, 2006 ,Chicago IL.
http://archive.rsna.org/2006/4432363.html