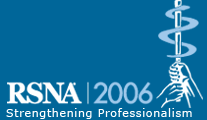 Abstract Archives of the RSNA, 2006
Lisa R Shah-Patel MD,
Presenter: Nothing to Disclose
Chi W. Koo MD,
Abstract Co-Author: Nothing to Disclose
Jeanne W. Baer MD,
Abstract Co-Author: Nothing to Disclose
David H. Frager MD,
Abstract Co-Author: Nothing to Disclose
To compare the cost, effectiveness and patient tolerance of milk versus VoLumen in patients undergoing CT with oral and intravenous contrast. We hypothesize that milk will be better tolerated than VoLumen while being more cost effective and providing similar degrees of GI distension.
63 adult patients referred for oral and intravenous contrast enhanced abdominal/pelvic CT received 1200 mL of VoLumen divided into two doses(900 mL 30 minutes and 300 mL immediately prior to the study)and 26 patients received 600-1000 mL of whole(4%)milk divided into two doses(400-600 mL one hour and 200-400 mL 20 minutes prior to CT acquisition). CT images were obtained during the portal venous phase and excretory phase with low osmolality iodinated contrast utilizing a single or 4 detector spiral unit. Studies were qualitatively evaluated independently by two radiologists for luminal distension of the antrum, duodenum, jejunum, and ileum on a scale of 0 to 3 with 0 being no distension, 1 being minimal(1cm)distension, 2 being good partial(1-2cm)distension, and 3 being excellent(>2cm)distension. Visualization of the bowel wall was evaluated and a cost comparison of the two agents was performed. A questionnaire regarding gastrointestinal symptoms was provided to all patients.
Of 63 receiving VoLumen, 2 cm distension was seen in the duodenum in 22/63(35%); jejunum 33/63(52%); ileum 46/63(73%). Of the 26 drinking milk, 2 cm distension was seen in the duodenum in 11/26(42%); jejunum 9/26(35%); ileum 16/26(62%). Antral and ileal wall definition were equal in both groups (VoLumen:98%antrum, 90%ileum; Milk:100%antrum, 92%ileum). 24/58 (41%)VoLumen patients completing the questionnaire had abdominal symptoms while 4/25(16%) milk patients had abdominal symptoms. The cost per patient for VoLumen was $18 versus for milk was $1.39.
Greater bowel distension was seen with VoLumen compared to milk, however, equal conspicuity of the bowel wall in the setting of low cost, patient acceptance, and fewer abdominal symptoms makes milk a viable alternative.
Milk is a viable, cheap oral contrast agent that can provide excellent distension throughout the GI tract with fewer abdominal symptoms than VoLumen.
Shah-Patel, L, Koo, C, Baer, J, Frager, D, Cost-effectiveness and Patient Tolerance of Low Attenuation Oral Contrast: Milk versus VoLumen. Radiological Society of North America 2006 Scientific Assembly and Annual Meeting, November 26 - December 1, 2006 ,Chicago IL.
http://archive.rsna.org/2006/4427145.html