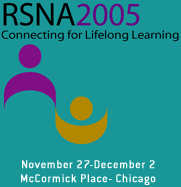 Abstract Archives of the RSNA, 2005
Daniel S. Berman MD,
Presenter: Nothing to Disclose
Michael Nagler PhD,
Abstract Co-Author: Nothing to Disclose
Dalia Dickman PhD,
Abstract Co-Author: Nothing to Disclose
Martin P. Sandler MD,
Abstract Co-Author: Nothing to Disclose
James A. Patton PhD,
Abstract Co-Author: Nothing to Disclose
Shlomo Ben Haim MD,
Abstract Co-Author: Nothing to Disclose
Simona Ben Haim MD,
Abstract Co-Author: Nothing to Disclose
Purpose: For nearly 50 years, there has been no fundamental change in single photon imaging systems. This is the first description and validation of new technology [Dynamic SPECT (D-SPECT), Spectrum-Dynamics, Haifa, Israel] designed to resolve the conflict between sensitivity and resolution that is inherent in standard Anger camera SPECT (A-SPECT). Materials and Methods: D-SPECT employs a a compact camera with a bank of detector/collimator columns. Tungsten collimators with large holes and an acceptance angle of nearly 5 times that of A-SPECT collimators are employed in front of multiple small cadmium zinc telluride (CZT) crystals. The detector columns turn, allowing the object of interest to be viewed from hundreds to thousands of different "viewing" angles. Phantom studies were carried out to assess sensitivity and resolution of D-SPECT, including a cobalt line source, a complex phantom with defects of varying size designed to determine minimum resolvable spatial resolution at a given contrast, and a standard torso phantom. All phantoms were scanned under the same conditions with both the D-SPECT and A-SPECT systems (dual detector, General Electric). For each experiment, the same total counts were collected with each system. Results: In all studies, D-SPECT system sensitivity was >10 times that of A-SPECT. In addition to a doubling of energy resolution provided by the CZT, the system spatial resolution was ~2x higher for D-SPECT than with A-SPECT, despite imaging for <1/10th the time. The complex phantom studies demonstrated that 2:1 target to backround contrast can be resolved for a one ml target with D-SPECT and not with A-SPECT. Conclusions: D-SPECT is an entirely new technology with marked increase in sensitivity and resolution compared to A-SPECT. The resultant shorter acquisition times allow rapid, sequential SPECT acquisitions (dynamic SPECT). The improved energy resolution of CZT could allow D-SPECT of multiple tracers simultaneously, creating new opportunities for quantitative molecular imaging. Disclosure: Drs. Berman, Sandler, and Patton are consultants for Spectrum-Dynamics. The other authors are employees of Spectrum-Dynamics.
Berman, D, Nagler, M, Dickman, D, Sandler, M, Patton, J, Ben Haim, S, Ben Haim, S, Hot Topic: D-SPECT: A Novel Camera for High Speed Quantitative Molecular Imaging: Initial Description and Validation. Radiological Society of North America 2005 Scientific Assembly and Annual Meeting, November 27 - December 2, 2005 ,Chicago IL.
http://archive.rsna.org/2005/4425784.html