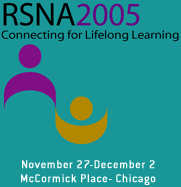 Abstract Archives of the RSNA, 2005
LPL08-01
Radiology of Go-Cart Injuries in Children
Scientific Posters
Presented on November 30, 2005
Presented as part of LPL08: Pediatric (General)
Annemarie Relyea-Chew,
Presenter: Nothing to Disclose
Felix Sze-Kway Chew MD,
Abstract Co-Author: Nothing to Disclose
David M. Cline MD,
Abstract Co-Author: Nothing to Disclose
Marta Elise Heilbrun MD,
Abstract Co-Author: Nothing to Disclose
Go-carts are small off-road motorized recreational vehicles marketed almost exclusively to children and parents as toys. Go-carts enjoy little regulatory scrutiny. The US Consumer Product Safety Commission estimated an average of 10,500 go-cart injuries per year, with two-thirds occurring in children. The number of injuries per year is increasing. We conducted a study of go-cart injuries in children to estimate morbidity and cost in this region, and to determine the radiologic spectrum of injuries.
A descriptive, retrospective study was conducted at Wake Forest University Baptist Medical Center (WFUBMC) of ATV injuries. Upon IRB approval the institutional Trauma Registry identified all patients admitted to WFUBMC between April 1998 and April 2003 as a result of ATV-related injuries. Of the 396 patients identified, 160 were children under 18 years of age and 18 were injured riding go-carts. Patient data, including diagnostic images, was retrieved from medical records, ED records, the hospital IS, the radiology picture archiving and communications system, the WFUBMC physicians group, and IS Data Repository.
There were 14 males and 4 females, 16 whites and 2 African-Americans, and the mean age was 10.3 ± 3.9 years. Of 14 whose helmet status was documented, 71% were not wearing helmets; 4 of those sustained closed head injuries. The mean ISS was 7.2 ± 5.5. Other injuries included head (22%) extreme injuries to the face and neck (17%) torso (28%), upper extremity (28%) and lower extremity (39%). The mean length of inpatient stay was 4.9 ± 5.4 days, the mean number of CT scans per patient was 1.6 ± 2.0 scans, 50% required one surgery, 28% required two or more surgeries, and 56% required at least one post-discharge surgery. The average hospital and physician inpatient charge was $18,882.
Go-cart accidents cause serious injuries in children and the cost to individuals and society is significant. Radiologists should be aware of the unique nature, imaging characteristics, and severity of these injuries.
Relyea-Chew, A, Chew, F, Cline, D, Heilbrun, M, Radiology of Go-Cart Injuries in Children. Radiological Society of North America 2005 Scientific Assembly and Annual Meeting, November 27 - December 2, 2005 ,Chicago IL.
http://archive.rsna.org/2005/4419735.html