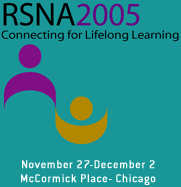 Abstract Archives of the RSNA, 2005
1347BP-e
IED Injuries: The Spectrum
Education Exhibits
Presented on November 27, 2005
Roge Boodoo MD,
Abstract Co-Author: Nothing to Disclose
James George Smirniotopoulos MD,
Presenter: Nothing to Disclose
David M. Danielson DO,
Abstract Co-Author: Nothing to Disclose
Erik Stephen Storm DO,
Abstract Co-Author: Nothing to Disclose
Describe the spectrum of blast injuries. Understand the emergent radiologic evaluation of penetrating injuries.
Insurgent conflicts and terrorist attacks present new challenges in warfare. The frequent use of IED's (improvised explosive devices) coupled with the use of body and vehicle armor has created new patterns of injury. Penetrating material typically shows an upward oblique trajectory through the neck region. Blast and shockwave injuries cause chest wall and pulmonary contusions. In theater, there is graduated evalaution and treatment of casualties: battle aid station; CASH units; and, evacuation to tertiary hospital care. We will present a spectrum of these injuries and discuss both the initial imaging and management with plain films, as well as the followup and definitive repair guided by CT and MR. General and Trauma radiologists should be familiar with these new patterns of injury.
Boodoo, R, Smirniotopoulos, J, Danielson, D, Storm, E, IED Injuries: The Spectrum. Radiological Society of North America 2005 Scientific Assembly and Annual Meeting, November 27 - December 2, 2005 ,Chicago IL.
http://archive.rsna.org/2005/4418891.html