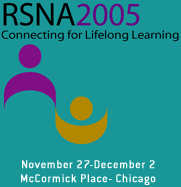 Abstract Archives of the RSNA, 2005
SST03-01
Avian Flu: The Prognostic Implications of the Radiological Pattern of Disease
Scientific Papers
Presented on December 2, 2005
Presented as part of SST03: Chest (Miscellaneous)
Nagmi Qureshi MBBS,
Presenter: Nothing to Disclose
Jeremy Farrar DPHIL,
Abstract Co-Author: Nothing to Disclose
Fergus Vincent Gleeson MBBS,
Abstract Co-Author: Nothing to Disclose
Tran Hien,
Abstract Co-Author: Nothing to Disclose
To review the radiological features and their prognostic implications in 14 patients with avian flu.
Chest radiographs from 14 patients, and CT scans in 3 patients, admitted to Ho Chi Minh City Hospital, Vietnam with avian flu were retrospectively reviewed by independent radiologists based in Vietnam and Oxford, UK. The radiologists were blinded to the patient's demographics, clinical progress, and respiratory function tests. On each radiograph the lung was divided into upper, middle and lower zones. Each zone spanning a third of the craniocaudal lung length. Each zone was further subdivided into three segments and the presence of consolidation scored;0= no abnormality, 18= bilateral diffuse abnormalities; lobar collapse, pleural effusion, cavitation, reticulonodular pattern, pneumothorax, calcification and lymphadenopathy were also documented. Scores ranged from 0 (no abnormality) to 18 (bilateral diffuse abnormalities). Correlation between radiological appearances on presentation, subsequent severity of changes and patient's demographics, clinical course and survival was performed.
14 patients had a total of 100 frontal chest radiographs. 9 patients died and 5 survived. No significant difference in patient demographics was seen in the mortality and survivor groups. In both groups, on presentation the commonest abnormality was multifocal consolidation involving at least two zones seen in 12(86%)patients, scores ranged from 0 to 18. No zonal predilection was demonstrated, however LUZ sparing was only seen in the survivor group. On admission, consolidation was significantly more severe in the mortality group than the survivor group, lesion score of ≥10, 6 vs 1, p<0.05, and ≥4 areas of zonal involvement 9 vs 2, p<0.001. Chest CT was performed on 3 of the patients who survived. Appearances included focal consolidation, pneumatocoele, and a persistent loculated pneumothorax.
In Avian flu multifocal consolidation is the commonest radiographic abnormality. Lesion score of ≥10 and ≥ 4 areas of zonal involvement on presentation are good predictors of mortality.
Qureshi, N, Farrar, J, Gleeson, F, Hien, T, Avian Flu: The Prognostic Implications of the Radiological Pattern of Disease. Radiological Society of North America 2005 Scientific Assembly and Annual Meeting, November 27 - December 2, 2005 ,Chicago IL.
http://archive.rsna.org/2005/4414133.html