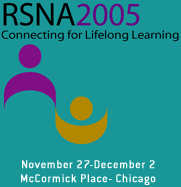 Abstract Archives of the RSNA, 2005
SSQ20-09
CT Fluoroscopy-guided Percutaneous Thoracic Sympathectomy for Primary Palmar Hyperhydrosis: A Minimally Invasive Approach—Prospective Study on 50 Consecutive Patients (103 Procedures)
Scientific Papers
Presented on December 1, 2005
Presented as part of SSQ20: Musculoskeletal (Interventional: Nonvascular)
Hugues Brat MD,
Presenter: Nothing to Disclose
Tarik Bouziane MD,
Abstract Co-Author: Nothing to Disclose
To evaluate feasability and clinical efficacy of percutaneous thoracic sympathectomy using multislice CT fluoroscopy for needle guidance and procedure management in cases of primary palmar hyperhydrosis.
50 consecutive patients (M:F 15/35) aged 18-37 years with primary palmar hyperhydrosis underwent bilateral percutaneous thoracic sympathectomy, resulting in 103 procedures. All procedures were achieved under local anaesthesia. After targeting the third thoracic vertebra, a volumetric multislice CT fluoroscopy was used for needle guidance and positioning at the anterior third of the paravertebral space. Widening of extrapleural space with saline was always performed to avoid pneumothorax. After injection of contrast media to prove extravascular positioning, neurolysis was performed using 8mL of an 8% phenol in glycerine solution. Patients remained on a one day hospital unit after the procedure for clinial evaluation.
In all cases, multislice CT fluoroscopy enabled perfect needle guidance along the vertebral pedicle and body, avoiding the pleura as well as the paravertebral veins and controlling diffusion of the phenol in glycerine solution at the level of the sympathetic ganglion. Immediate good results, resulting in interruption of sweating, were observed in 94% (47 patients, 97 procedures). 3 Patients presented an unsatisfactory one-sided result and underwent a successfull second procedure. No significant complications were observed, such as pneumothorax or Horner syndrome. Minor complications such as chest pain or thoracic discomfort were observed in 32% (16 patients, 27 procedures), resolving within hours after the treatment. Mean duration of the procedure did not exceed 20 minutes.
Percutaneous thoracic sympathectomy using CT fluoroscopy for needle guidance and procedure management is a minimally invasive and efficient treatment for primary palmar hyperhydrosis.
Brat, H, Bouziane, T, CT Fluoroscopy-guided Percutaneous Thoracic Sympathectomy for Primary Palmar Hyperhydrosis: A Minimally Invasive Approach—Prospective Study on 50 Consecutive Patients (103 Procedures). Radiological Society of North America 2005 Scientific Assembly and Annual Meeting, November 27 - December 2, 2005 ,Chicago IL.
http://archive.rsna.org/2005/4409393.html