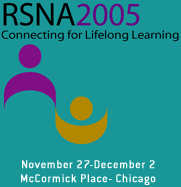 Abstract Archives of the RSNA, 2005
SSG01-05
Initial Experience with Digital Breast Tomosynthesis in 99 Breasts of 98 Women with Abnormal Digital Screening Mammography
Scientific Papers
Presented on November 29, 2005
Presented as part of SSG01: ISP: Breast (Digital Mammography)
Steven Poplack MD,
Presenter: Nothing to Disclose
Christine Kogel,
Abstract Co-Author: Nothing to Disclose
Helene Nagy MD,
Abstract Co-Author: Nothing to Disclose
To provide pilot data and gain insight into the potential role of tomosynthesis in breast cancer screening and diagnosis.
Women with abnormal digital screening mammography requiring additional diagnostic mammography were recruited sequentially. After providing consent, women underwent tomosynthesis of the affected breast. Up to 3 tomosynthesis views were performed, corresponding to the views obtained with diagnostic mammography. One of two breast imaging specialists reviewed the tomosynthesis exam prospectively and then in comparison to diagnostic mammography.
There were 99 affected breasts with 106 findings in 98 women. 71/99(72%) had two tomosynthesis views, 22/99(22%) had 3 views, and 6/99(6%) had a single view. Recalled findings included, asymmetry 64/106(57%), mass 17/106(16%), calcifications 17/106(16%), and architectural distortion 8/106(8%). Approximately half 49/99(49%) of the subjects would not have been recalled on the basis of tomosynthesis. 38/49(78%) had a finding type of asymmetry. Four of these 49 subjects underwent biopsy yielding 3 benign results and a 1 cm. mucinous carcinoma. The mucinous carcinoma was detected incidentally by sonography and did not represent the finding recalled by screening mammography. In retrospect it was visible with tomosynthesis but not mammography. Tomosynthesis was equivalent (n=49), or superior (n=37), to diagnostic mammography in 86/99(87%) of subjects. Calcifications accounted for 9/13(69%) of cases in which diagnostic mammography performed better than tomosynthesis. Subject outcomes included routine or short interval follow-up in 79/99(80%), and biopsy in 20/99(20%). Four subjects had invasive carcinoma (2-invasive ductal, 1-invasive lobular, 1-mucinous carcinoma)and 3 had high risk pathology results.
These results are preliminary and require validation in a larger more rigorous trial. In comparison to mammography, digital tomosynthesis holds great promise as a more specific screening technique, and equivalent or superior diagnostic technique. These data provide initial estimates of recall rate reduction and diagnostic equivalence of tomosynthesis, which may be used to plan future tomosynthesis research.
S.P.: Serves as a scientific advisory board member for Hologic Inc..
Poplack, S, Kogel, C, Nagy, H, Initial Experience with Digital Breast Tomosynthesis in 99 Breasts of 98 Women with Abnormal Digital Screening Mammography. Radiological Society of North America 2005 Scientific Assembly and Annual Meeting, November 27 - December 2, 2005 ,Chicago IL.
http://archive.rsna.org/2005/4405984.html