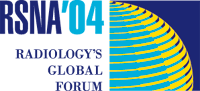 Abstract Archives of the RSNA, 2004
Kemal Tuncali MD,
Presenter: Nothing to Disclose
Nikhil H. Ramaiya MD,
Abstract Co-Author: Nothing to Disclose
Eric vanSonnenberg MD,
Abstract Co-Author: Nothing to Disclose
Paul Richard Morrison MS,
Abstract Co-Author: Nothing to Disclose
Stuart George Silverman MD,
Abstract Co-Author: Nothing to Disclose
To report the 5-year experience of a clinical trial of MRI-guided percutaneous cryotherapy of liver tumors.
44 liver tumors (mean 2.9cm, range 1.5-4.8) in 31 patients (16 women, 15 men; mean age 62 years, range 29-87) were treated (51 cryoablations) under an IRB-approved clinical trial limited to liver masses ≤ 5cm, and patients not undergoing other treatments. The 44 tumors included 13 colorectal metastases, 29 non-colorectal metastases, and 2 HCC's. In a 0.5T open MRI system, cryoneedles were placed and tumors ablated using intraprocedural MRI monitoring of iceballs. Tumors were considered successfully ablated if they demonstrated no abnormal enhancement or growth at follow -up CT or MRI (mean 16 months, range 2-60). Survival data were tabulated. 2 patients (5 tumors) were lost to follow-up and excluded. Complications were tabulated for all procedures.
Overall, 19 of 39 tumors were successfully treated (49%); 17 required only one treatment session. Of 28 tumors ≤ 3.5cm, 17 were completely ablated (61%). Of the 20 treatment failures, 6 showed residual tumor at 24 hour imaging and 14 showed recurrence at later follow-up (mean time to recurrence 13 months, range 2-60). Retreatment with cryotherapy was precluded in these cases due to development of other liver tumors and/or systemic progression, which required treatment with chemotherapy. 5 patients in this group expired during follow-up. In the successful treatment group, 2 patients expired during follow up due to systemic progression. Overall survival rate was 22/29 (76%). Of 51 cryoablations, complications were seen in 4 patients including one case each of transient hyperbilirubinemia, successfully-treated pulmonary embolism, needle tract seeding at the puncture site that was resected, and an idiosyncratic DIC-like picture with hemorrhage at the ablation site that was successfully treated with embolization.
MRI-guided percutaneous cryotherapy of liver tumors is a safe, effective treatment option for the local control of liver tumors. As with other percutaneous ablation techniques, local success rate is higher for smaller tumors, and survival is dependent on combining ablation with systemic therapies.
S.G.S.: Author is a consultant to Oncura.
Tuncali, K, Ramaiya, N, vanSonnenberg, E, Morrison, P, Silverman, S, MRI-guided Percutaneous Cryotherapy of Liver Tumors. Radiological Society of North America 2004 Scientific Assembly and Annual Meeting, November 28 - December 3, 2004 ,Chicago IL.
http://archive.rsna.org/2004/4416178.html