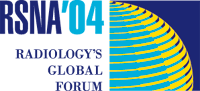 Abstract Archives of the RSNA, 2004
SSK05-07
Complications of Image-guided Percutaneous Lung Radiofrequency Ablation: Experience with 126 Patients (Total of 163 Lesions Treated) in 6 Years
Scientific Papers
Presented on December 1, 2004
Presented as part of SSK05: Chest (Image-guided Diagnosis and Therapy)
Caroline J. Simon MD,
Presenter: Nothing to Disclose
Damian Edward Dupuy MD,
Abstract Co-Author: Nothing to Disclose
William W. Mayo-Smith MD,
Abstract Co-Author: Nothing to Disclose
Thomas A DiPetrillo MD,
Abstract Co-Author: Nothing to Disclose
Neal E Ready MD,
Abstract Co-Author: Nothing to Disclose
To describe our experience using percutaneous image-guided, radiofrequency ablation (RFA) in the treatment of solid lung and pleural-based neoplasms.
We have performed 155 percutaneous lung RFA procedures in 126 medically inoperable patients, treating a total of 163 lesions at our institution over the past 6 years. We reviewed our experience using direct patient contact, follow-up imaging, and chart review. Results, complications, and follow-up treatments were identified, categorized, and subsequently tabulated.
There were 69 men and 57 women with an average age of 68 years (range 17-91 years). Indications for lung RFA were tumor palliation (n=20) and local control of either primary or metastatic lung neoplasms (n=106). Twenty four (24) patients underwent two or more RFA procedures; seventeen (17) to treat new areas of metastases, six (6) for additional tumor palliation, and one (1) to retreat an area of residual unablated tumor. Immediate complications (up to 24 hours) included 43 pneumothoraces, 11 (7%) of which were symptomatic and warranted chest tube insertion, five pleural effusions, three (3) cases of transient hemoptysis, three (3) intra-procedure and two (2) post-procedure respiratory desaturation, two (2) incidences of subcutaneous emphysema, one (1) ablation site hematoma, and five (5) admissions. Peri-procedural complications (within 30 days) included one (1) case of mild contact dermatitis at the grounding pad site, and three (3) mortalities: one in a patient who suffered a pleural hemorrhage at 43 hours post-procedure, one attributable to congestive heart failure at 7 days, and one caused by interstitial pulmonary fibrosis (IPF) exacerbation at 10 days. Excluding patients treated for tumor palliation, 64 patients (60% of 106 patients) are still alive and attending regular follow-up clinics and imaging surveillance studies, while 30 patients have died (28%) from causes unrelated to the RFA.
Percutaneous radiofrequency ablation alone or in conjunction with standard therapies such as chemotherapy and radiation therapy appears to be safe and technically feasible in the treatment of primary or metastatic lung neoplasms.
D.E.D.: Receives grant support from Valley Lab, Vivant Medical, and Boston Scientific
Simon, C, Dupuy, D, Mayo-Smith, W, DiPetrillo, T, Ready, N, Complications of Image-guided Percutaneous Lung Radiofrequency Ablation: Experience with 126 Patients (Total of 163 Lesions Treated) in 6 Years. Radiological Society of North America 2004 Scientific Assembly and Annual Meeting, November 28 - December 3, 2004 ,Chicago IL.
http://archive.rsna.org/2004/4408392.html