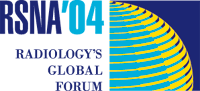 Abstract Archives of the RSNA, 2004
SSA23-08
Multidetector Computerized Tomography (MDCT) Analysis of Skeletal Remains of Members of Samuel de Champlainís 1604 Settlement on Isle de Ste Croix
Scientific Papers
Presented on November 28, 2004
Presented as part of SSA23: Musculoskeletal (Metabolic, Osteoporosis)
John M. Benson MD,
Presenter: Nothing to Disclose
Marcella H. Sorg PhD,
Abstract Co-Author: Nothing to Disclose
Lisa B. Hunter,
Abstract Co-Author: Nothing to Disclose
To evaluate the feasibility of using clinical MDCT to examine excavated human osteologic material and promote understanding of the conditions under which the French colonists lived and died during the winter of 1604.
MDCT was used to image selected skeletal remains from 7 burials: 5 femurs, 2 tibiae, 2 fibulae, 2 crania/mandibles, 2 mandibles and 1 maxilla. Data sets were acquired at 0.5mm slice thickness and displayed on a commercially available workstation using isotropic multiplanar reformatting (MPR) and volume rendering. Anthropological analysis was performed non-destructively. A digital archive was created for future comparative research.
Situated in an estuary between Calais, Maine and St Andrews, New Brunswick, Isle de Ste Croix may have been chosen by Champlain and his officers for its military defensive attributes but the isolation that developed over the unexpectedly (by the Europeans) harsh winter of 1604 contributed to the demise of nearly one-half of the colony of 79 men. Resulting imaging data corroborates a long held theory that scurvy was the cause of death of the unfortunate crewmembers. Long bones were found to contain linear intracortical lacuna. This lacuna is thought to represent the sequela of subperiosteal hemorrhage associated with scurvy. The prominent palatine torus found on several of the specimens may represent hyperostosis deep to the extensive intraoral submucosal hemorrhage, inferred from Champlainís journals. Age determination of the deceased was facilitated by the identification of unfused epiphyseal closure lines and by evaluation of dentition. Marked periostitis was noted in a pair of tibiae, likely indicating chronic osteomyelitis or syphilis.
MDCT is a robust tool in the anthropological analysis of human remains and provides insight into pathophysiological conditions and historical circumstances. This investigation is the first to use MDCT to analyze scorbutic skeletal remains of early European colonists in the New World. Discovery of intracortical lacunae likely associated with adult scurvy has not been described in the radiological literature.
J.M.B.: Dr. Benson is a shareholder in Vital Images, Inc
Benson, J, Sorg, M, Hunter, L, Multidetector Computerized Tomography (MDCT) Analysis of Skeletal Remains of Members of Samuel de Champlainís 1604 Settlement on Isle de Ste Croix. Radiological Society of North America 2004 Scientific Assembly and Annual Meeting, November 28 - December 3, 2004 ,Chicago IL.
http://archive.rsna.org/2004/4407769.html