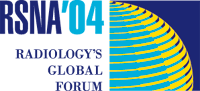 Abstract Archives of the RSNA, 2004
Laurence Parker PhD,
Presenter: Nothing to Disclose
David Carl Levin MD,
Abstract Co-Author: Nothing to Disclose
Vijay Madan Rao MD,
Abstract Co-Author: Nothing to Disclose
Andrea Joann Maitino MS,
Abstract Co-Author: Nothing to Disclose
Jonathan H. Sunshine PhD,
Abstract Co-Author: Nothing to Disclose
To determine the proportions of noninvasive diagnostic imaging (NDI) workload carried out in the various locations where imaging equipment is typically located, and to see how this has changed in recent years.
We first used the Medicare Part B database for 2002. Professional component relative value units (RVUs) per thousand Medicare beneficiaries were determined for all CPT-4 codes in the 70,000 and 90,000 series related to NDI. RVU rates were considered a measure of NDI workload. Each claim from a provider includes a place-of-service code, and these were used to categorize the RVU rates according to where the studies were performed: hospital inpatient, hospital outpatient, private office/imaging center, emergency department (ED), etc. All NDI exams were included, regardless of physician provider specialty. Comparison was then made with data from 1997 to ascertain changes over the 5-year period.
In 2002, 28.4% of all NDI work was conducted on hospitalized inpatients, 31.7% in hospital outpatient facilities, 32.6% in private offices/imaging centers, 6.1% in EDs, and the remaining 1.1% in other locations. Between 1997 and 2002, the hospital inpatient percentage dropped from 33.6% to 28.4%, while the private office/imaging center percentage increased from 28.1% to 32.6%. The percentages in the remaining locations showed only minor changes. From 1997 to 2002, the RVU rate changes in the three primary locations for NDI were as follows: hospital inpatient - 670 to 758 (+13.1%); hospital outpatient - 639 to 845 (+32.2%); private offices/imaging centers - 560 to 870 (+55.4%). The overall RVU rate for all locations increased from 1996 in 1997 to 2666 in 2002 (+33.6%).
There was an overall RVU rate increase for all places-of-service of 33.6%. Although there was a modest increase in the hospital inpatient setting (13.1%), the rate in the hospital outpatient setting grew over twice as rapidly and the rate in private offices/imaging centers grew over 4 times as rapidly. As a result, there was a substantial drop in the percentage of NDI workload performed on hospital inpatients and a corresponding rise in the percentage performed in private offices/imaging centers.
V.M.R.,D.C.L.,L.P.,J.S.,A.M.: no disclosures
Parker, L, Levin, D, Rao, V, Maitino, A, Sunshine, J, Recent Changes in Place-of-Service Where Imaging Is Performed in the United States. Radiological Society of North America 2004 Scientific Assembly and Annual Meeting, November 28 - December 3, 2004 ,Chicago IL.
http://archive.rsna.org/2004/4407123.html