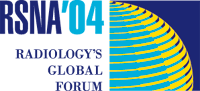 Abstract Archives of the RSNA, 2004
Jesse Davila MD,
Presenter: Nothing to Disclose
Charles Daniel Johnson MD,
Abstract Co-Author: Nothing to Disclose
Thomas R Behrenbeck MD,
Abstract Co-Author: Nothing to Disclose
Tanya Hoskin,
Abstract Co-Author: Nothing to Disclose
CT Colonography (CTC) has the potential to detect important extracolonic abnormalities. Since cardiovascular related deaths account for the most common cause of death in the United States, we sought to determine if findings encountered during a routine CTC examination could be used to assess cardiovascular risk and future cardiac events. Our aim was to determine if calcium scores of the abdominal aorta obtained during CTC relate to Framingham risk factors and clinical cardiac events.
Between 1995-1998, 480 patients underwent CTC, 467 were available for assessment. Calcium scoring (Smart Score, GE Medical Systems), using a threshold of > 150 HU was recorded for the abdominal aorta (suprarenal, infrarenal, bifurcation, total). Patient histories were abstracted for established cardiac risk factors and cardiac events.
Nine patients had cardiac events subsequent to CTC. A proportional hazards regression showed significant association between MI or cardiac related death and aortic bifurcation calcium scores exceeding 895, the 75th percentile for this calcium variable, p < 0.01. All four calcium scores showed significant associations with established cardiac risk factors. Spearman rank correlations between total calcium score and the variables age, pack years smoking, and systolic blood pressure were 0.51, 0.43, and 0.29, respectively (p < 0.0001).
Aortic calcification scores at CTC are significantly associated with established cardiac risk factors and cardiac related events. This screening information can be obtained without additional scanning or risk to the patient. The potential impact of combining colorectal screening with cost-effective cardiovascular screening is substantial and merits further study.
Davila, J, Johnson, C, Behrenbeck, T, Hoskin, T, Assessment of Cardiovascular Risk Status at CT Colonography. Radiological Society of North America 2004 Scientific Assembly and Annual Meeting, November 28 - December 3, 2004 ,Chicago IL.
http://archive.rsna.org/2004/4404564.html