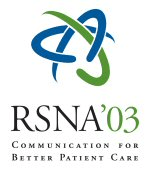 Abstract Archives of the RSNA, 2003
547-p
Distal Congenital Esophageal Stenosis Associated with Esophageal Atresia/Tracheoesophageal Fistula
Scientific Posters
Presented on December 4, 2003
Presented as part of R14: Pediatric Pediatric Radiology: General
Woo Sun Kim MD,
PRESENTER: Nothing to Disclose
Abstract: HTML Purpose: Distal congenital esophageal stenosis (CES) can be detected after repair of esophageal atresia/tracheoesophageal fistula (EA/TEF) complex. To review our experiences in the diagnosis and management of this entity. Methods and Materials: Postoperative esophagograms and medical records of 98 EA/TEF patients (1992-2003. 3) were reviewed. Results: Distal CES was detected in eight patients (8%), who had had operations for EA with distal TEF (n=7) and H-type TEF (n=1). Distal CES was typically a segmental, circumferential narrowing at the distal esophagus 2 to 4cm above the gastroesophageal junction. Concomitant CES (n=2, 25%) was found below at the more distal esophagus and at the gastroesophageal junction in one patient each. The stenosis was moderate to severe in seven patients and mild in one patient. Balloon dilation (up to 10 or 12mm) performed in three patients was not effective and was complicated by esophageal perforation in one patient. Three patients underwent segmental resection and histologic examination revealed tracheobronchial remnants in all three patients. Conclusion: Postoperative esophagography after EA/TEF repair should be performed with a high index of suspicion for the presence of distal CES. Resection and anastomosis may be recommended for symptomatic patients.
Kim MD, W, Distal Congenital Esophageal Stenosis Associated with Esophageal Atresia/Tracheoesophageal Fistula. Radiological Society of North America 2003 Scientific Assembly and Annual Meeting, November 30 - December 5, 2003 ,Chicago IL.
http://archive.rsna.org/2003/3108461.html