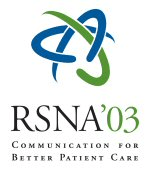 Abstract Archives of the RSNA, 2003
Manzar Ashtari PhD,
PRESENTER: Nothing to Disclose
Abstract: HTML Purpose: Earlier reported research suggests that brain frontal white matter (WM) may be qualitatively altered in adolescents with schizophrenia. Diffusion tensor imaging provides a relatively new approach for quantifying the directional coherence and possible connectivity of white matter in vivo. Methods and Materials: Diffusion tensor imaging was employed to examine the WM integrity of frontal regions at seven levels from 25 mm above to 5 mm below the anterior commissure-posterior commissure (AC-PC) plane. Fractional anisotropy (FA) of 12 adolescents (9M, 3F) with early-onset schizophrenia (EOS)was compared to 9 age-similar healthy comparison subjects (6M, 3F). The DTI data were acquired using a six directional diffusion tensor sequence with contiguous 5 mm slices acquired parallel to the AC-PC plane. A total of 18 slices were acquired in approximately 4 minutes. Before processing, the raw images were inspected for evidence of artifacts and run through a quality assurance program. To obtain the FA images an off-line reconstruction program was used. All ROIs were placed on the T2 weighted b=0 scans with more conspicuous structural definition and simultaneously projected onto the FA images where FA values were acquired. The interrater reliability for FA, measured by ICC between two independent raters exceeded 0.80 for every ROI. Results: A significant main effect of group (p<0.021) was observed for frontal FA at the AC-PC plane. Significant effects of hemisphere were noted for the frontal lobe at +20, +10, +5 mm above the AC-PC plane; at all three levels the left hemisphere FA values were significantly larger than the right for both patients and comparison subjects. For patients, FA value in the right occipital region was significantly reduced compared to normal controls but not in the left hemisphere. Lower FA levels in the frontal WM at the AC-PC plane was associated with poorer performance on the digit span subtest of the Wechsler Intelligence Scale Children-III. Conclusion: The principal finding of this study is that patients with early onset schizophrenia have decreased FA values compared to matched normal controls and that these abnormalities have functional neuropsychological correlates. The disruption in WM integrity was observed at the AC-PC level in both the right and left frontal lobes and in the right occipital region. Larger sample size and more advanced postprocessing techniques such as tractography are needed to better understand brain connectivity and fiber pathways during adolescence in schizophrenia. Questions about this event email: ashtari@lij.edu
Ashtari PhD, M, Diffusion Tensor Imaging of Patients with Early-onset Schizophrenia. Radiological Society of North America 2003 Scientific Assembly and Annual Meeting, November 30 - December 5, 2003 ,Chicago IL.
http://archive.rsna.org/2003/3108254.html