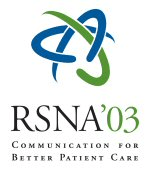 Abstract Archives of the RSNA, 2003
Martin Mack MD,
PRESENTER: Nothing to Disclose
Abstract: HTML Purpose: To compare the diagnostic potential of MDCT with contrast enhanced MRI for the evaluation of tumors of the head and neck in the same patient. Methods and Materials: 54 patients were examined using a multislice CT (SOMATOM Plus 4, Volume Zoom, Siemens, Erlangen) in axial slice orientation with a slice collimation of 4x1 mm. MPRs were performed in coronal, and sagittal orientations in 3 mm slice thickness. The patients agreed to undergo an additional contrast enhanced MRI scan on the same day. MR imaging was performed using T2 and T1-weighted axial and coronar plain sequences as well as T1-weighted coronal sequences post contrast and T1-weighted fat saturated sequences in axial slice orientation. Sagittal T1-weighted sequences were optional. CT and MRI images of 54 patients were evaluated according to predefined criteria by two experienced radiologists. Results: MRI turned out to be statistically significantly superior to CT in the evaluation of the extent of tumor infiltration (p<0.001), in tissue differentiation (p<0.001) and evaluation of tumor spread (p<0.001). Using MRI all tumors were correctly staged according the TNM classification. CT understaged the tumors in three cases and missed lymph node metastases in another case. In CT dental artifacts appeared on 74% (40/54) of all examinations and resulted in limited evaluation in 30% (12/40); one tumor could not be detected due to dental artifacts on CT images. On MRI dental artifacts appeared in 28% (15/54), however, the diagnostic value was only limited in 7% (1/15). There were motion or swallowing artifacts on MRI in relevant sequences in 26% (14/54). There were motion artifacts in 13 other cases on MR images in uncooperative patients; however, these artifacts were not in relevant sequences. CT was in only one cases affected by motion artifacts. Using an overall evaluation MRI was superior to MDCT in 58% (31/54), whereas CT was superior over MRI in 15% (8/54). In 15 cases MRI was equal to MDCT. Conclusion: Plain and contrast enhanced MRI is superior to contrast enhanced MDCT with secondary reconstruction regarding tumor staging and the evaluation of tumor spread. Contrast enhanced MDCT is the optimal alternative in uncooperative patients. Questions about this event email: M.Mack@em.uni-frankfurt.de
Mack MD, M, Comparison of Contrast-enhanced Multislice CT (MDCT) with Contrast-enhanced MRI for the Evaluation of Tumors of the Head and Neck in the Same Patient. Radiological Society of North America 2003 Scientific Assembly and Annual Meeting, November 30 - December 5, 2003 ,Chicago IL.
http://archive.rsna.org/2003/3107605.html