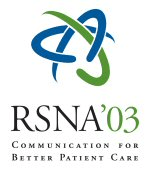 Abstract Archives of the RSNA, 2003
J10-793
Large-sized Hepotocellular Carcinoma (HCC): Neoadjuvant Treatment Protocol with Repetitive Transarterial Chemoembolization (TACE) before Percutaneous MR-guided Laser-induced Thermotherapy (LITT)
Scientific Papers
Presented on December 2, 2003
Presented as part of J10: Vascular Interventional (Interventions)
Stefan Zangos MD,
PRESENTER: Nothing to Disclose
Abstract: HTML Purpose: To evaluate the feasibility and efficacy of the therapeutic approach of repeated transarterial chemoembolization (TACE) before MR-guided LITT (laser induced thermotherapy) for large sized hepatocellular carcinomas (HCC). Methods and Materials: Repeated TACE were performed in 100 patients with hepatocellular carcinoma using 10 mg/m2 mitomycin, 10 ml/m2 lipiodol and microspheres. A total number of 424 TACE (mean: 4.2 treatments per patient) was performed in all patients. The tumor volume was measured by MR-imaging. Lipiodol retention and perfusion of the tumors were evaluated by CT and angiography. Within 4-6 weeks after documentation of response to the TACE treatment MR-guided LITT followed. Results: In 87 patients a high lipiodol retention in the tumor after TACE was observed. There were no major complications induced by TACE and the observed Side effects after TACE were moderate. Repeated TACE enabled a reduction in tumor size and tumor perfusion in 22 patients, forming the basis for the performance of MR-guided LITT procedure for a complete ablation of the tumor. These patients received 2 to 6 TACE (mean: 3.2 treatment per patient) treatments followed by 2 to 4 (mean: 3.3) laser treatments. The median survival period after the first TACE treatment was with 18.71 months for the palliative group and statistically significant higher with 39.76 months in the neoadjuvant group. Conclusion: Repeated TACE treatment appears to be an safe and effective treatment of large HCC with the additional potential of neoadjuvant intention before MR-guided LITT. Questions about this event email: Zangos@em.uni-frankfurt.de
Zangos MD, S, Large-sized Hepotocellular Carcinoma (HCC): Neoadjuvant Treatment Protocol with Repetitive Transarterial Chemoembolization (TACE) before Percutaneous MR-guided Laser-induced Thermotherapy (LITT). Radiological Society of North America 2003 Scientific Assembly and Annual Meeting, November 30 - December 5, 2003 ,Chicago IL.
http://archive.rsna.org/2003/3107347.html