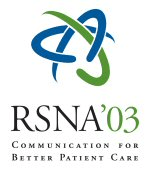 Abstract Archives of the RSNA, 2003
Rowena Yip,
PRESENTER: Nothing to Disclose
Abstract: HTML Purpose: To determine pertinent risk indicators and findings on CT screening that impact on the probability of lung cancer found in the context of a CT screening program. Methods and Materials: Among 2,957 men and women, aged 40 and older with some history of cigarette smoking, we have diagnosed a total of 113 lung cancers on either baseline or repeat CT screening and another 3 symptom-prompted cancers in between the screenings. Using logistic regression analysis, we developed a probability function based on age, pack-years of smoking and gender. After obtaining the low-dose CT, we used logistic regression to further refine the probability of malignancy using nodule size and texture for the 1,097 who had at least one nodule of any size. Results: Significant risk indicators for lung cancer were: increasing pack-years of smoking, age over 50 years, and female gender. The odds ratio (95% confidence interval) for these risk indicators were: 1.02 (1.008-1.03), 10.2 (1.4-73.7), and 2.1 (1.4-3.1), respectively. When the CT findings as to nodule size and texture were included, age was no longer a significant indicator, but the odds ratio and 95% confidence interval for increasing pack-years remained 1.02 (1.01-1.03), for female gender it remained about the same at 2.2 (1.2-3.9). The added significant nodule factors were size with an odds ratio (95% confidence interval) of 1.3 (1.2-1.4) and having a part-solid texture with an odds ratio of 9.0 (3.9-20.7). Conclusion: We found that women are at increased risk of lung cancer with an odds ratio of two, independent of pack-years of smoking, age, and nodule characteristics. Not surprisingly, pack-years of smoking was also a risk indicator. The nodule texture being part-solid was the most significant factor, although nodule size was also important.
Yip, R, Probability of Lung Cancer by Relevant Factors. Radiological Society of North America 2003 Scientific Assembly and Annual Meeting, November 30 - December 5, 2003 ,Chicago IL.
http://archive.rsna.org/2003/3107017.html