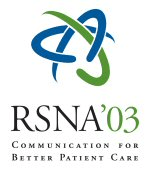 Abstract Archives of the RSNA, 2003
Jean-Pierre Laissy MD, PhD,
PRESENTER: Nothing to Disclose
Abstract: HTML Purpose: To determine the respective diagnostic value of perfusion and angiographic coronary MR sequences to differentiate between acute myocardial infarction (AMI) and acute myocarditis (AM). Methods and Materials: Twenty-one consecutive patients without past history of myocardial disease and strong suspicion of acute myocardial infarction were included. MR examinations were performed at rest, including first-pass perfusion, delayed enhancement sequences, and 3D MRA of the three main coronary arteries. Each data set was read separately, then in combination. Final diagnosis was obtained with coronary angiography as reference. Results: Twelve patients had AMI, and nine patients AM. All AMI but one displayed a territorial early subendocardial defect with corresponding delayed enhancement. All AMI displayed stenosis of at least the corresponding coronary artery. All AM but one displayed normal first-pass enhancement patterns, and focal or diffuse nonterritorial nonsubendocardial delayed enhancement, with normal coronary arteries in all cases. Conclusion: The combination of early and late perfusion imaging with coronary MRA sequences adds new avenues to discriminate AMI from AM with MR imaging. Questions about this event email: jean-pierre.laissy@bch.ap-hop-paris.fr
Laissy MD, PhD, J, Acute Myocardial Infarct vs Acute Myocarditis: Respective Value of Early Perfusion, Delayed Enhancement, and Coronary MRA Sequences. Radiological Society of North America 2003 Scientific Assembly and Annual Meeting, November 30 - December 5, 2003 ,Chicago IL.
http://archive.rsna.org/2003/3106425.html