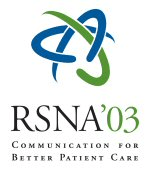 Abstract Archives of the RSNA, 2003
John Braud MD,
PRESENTER: Nothing to Disclose
Abstract: HTML Purpose: To report the evolution of image-guided interventions on patients with pancreatic fluid collections (PFC)complicating pancreatitis culled from 15 years experience. This presentation focuses on: a) the use of large catheters and catheter manipulations to remove necrotic debris, b) obtaining access for enteral nutrition. Methods and Materials: A series of 130 patients who underwent image guided catheter drainage of PFC complicating pancreatitis are included in the study. Pancreatitis was caused by alcohol, 47 patients; postoperative, 44 patients; biliary, 11 patients; metabolic, 7 patients; trauma 6 patients; drug induced, 3 patients; heart-lung pump, 3 patients; miscellaneous, 9 patients. Severe pancreatitis occurred in 61 patients. Diagnosis of fluid collections was made by CT scan of the abdomen. Indications for drainage were pain, sepsis or obstruction. Single or multiple drainage catheters 8-32 F were used. Catheter management included daily irrigation, catheter sinogram and elective catheter exchange. From 1993 until present, manipulations with large catheters, baskets and videoendoscopy (5 patients) were used for removal of necrotic debris. Nasojejunal tube insertion and gastrojejunostomy for enteral nutrition were performed in 31 patients. Outcomes evaluated were: collection resolution, collection recurrence, need for additional drainage or surgery, and death. Follow-up ranged from 2 months to 36 months. Results: One hundred eight (83%) patients resolved their PFC with image-guided interventions (lost to follow-up with catheter inserted, 1 patient). Collections recurred in 21 patients: 18 were successfully redrained percutaneously and 3 required surgery. Seventeen patients (13%) died: multiorgan failure, 16 patients; pulmonary embolism, 1 patient. Large catheters and videoendoscopy added effectiveness for necrotic debris evacuation. Enteral feeding was well-tolerated and provided adequate nutritional support in all patients. Conclusion: In our series, image-guided interventions have evolved to a more vigorous drainage approach. The scope of patient management by the interventionist has broadened to include providing enteral access for nutritional support. Questions about this event email: jbraud1@lsuhsc.edu
Braud MD, J, The Evolution of Image-guided Treatment of Pancreatic Fluid Collections: Broadening the Scope of Patient Care. Radiological Society of North America 2003 Scientific Assembly and Annual Meeting, November 30 - December 5, 2003 ,Chicago IL.
http://archive.rsna.org/2003/3105037.html