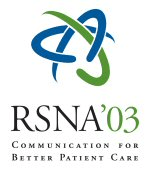 Abstract Archives of the RSNA, 2003
Martin Mack MD,
PRESENTER: Nothing to Disclose
Abstract: HTML Purpose: To evaluate the role of MR imaging for the evaluation of the success rate of a novel chemotherapy with TPF in advanced SCCHN. Methods and Materials: 36 patients (28 male, 8 female, mean age: 58 years, range 44-78 years) with advanced SCCHN were evaluated with MR imaging using a TIRM, T1 and T2-weighted sequences in axial slice orientation and a T1-weighted sequence in coronal slice orientation before contrast injection as well as fat saturated T1-weighted sequence in axial and coronal slice orientation after contrast injection. The same imaging protocol was done before three cycles of induction chemotherapy with docetaxel 75 mg/square meter on day 1, cisplatin 100 mg/square meter on day 1, and 5-fluorouracil 1000 mg/square meter /day on day 1-5 repeated every three weeks in patients with advanced SCCHN). Volumetric evaluation was done using a slice by slice measurement with an adapted region of interest evaluation. Furthermore visual evaluation of the images and surgical biopsies were used to assess the response rate based on WHO guidelines. Results: 18 patients had a tumor stage T3 and 13 patients had a tumor stage T4. Five patients had a lower tumor stage, however these patients were suffering from extensive lymph node metastases and were therefore candidates for induction chemotherapy. The volumetric evaluation of the size of the tumor before and after the induction chemotherapy was possible in all patients. The findings of MR imaging correlated in 32 of 36 cases with surgical biopsies. In 4 cases residual tumor on MR imaging could not be proved with surgical biopsies. Reversible neutropenia up to WHO grade 4 was the most common toxicity. Complete remission was observed in 22 cases. 5 patients showed a partial response. Two patients showed stable disease and 7 patient had progressive disease. Conclusion: MR imaging is well suited for the staging of patients with advanced SCCHN and for the evaluation of follow up examination after chemotherapy. Volumetric evaluation based on the MR images is very helpful in the evaluation of the treatment response. Furthermore this TPF triple regimen is at least comparable in response rate to standard PF regimen for induction chemotherapy in advanced SCCHN. Questions about this event email: M.Mack@em.uni-frankfurt.de
Mack MD, M, MR Imaging in the Evaluation of a Novel Induction Chemotherapy Regimen with Docetaxel, Cisplatin and 5-fluorouracil (TPF) in Advanced Squamous Cell Carcinoma of the Head and Neck (SCCHN). Radiological Society of North America 2003 Scientific Assembly and Annual Meeting, November 30 - December 5, 2003 ,Chicago IL.
http://archive.rsna.org/2003/3103635.html