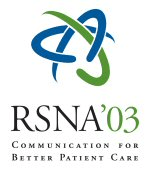 Abstract Archives of the RSNA, 2003
Jung Kim MD,
PRESENTER: Nothing to Disclose
Abstract: HTML Purpose: The purpose of this study is to assess the performance characteristics of 3D CT using multi-detector CT for the detection and characterizations of early gastric cancer (EGC) Methods and Materials: During a 6-month period, we prospectively performed CT examination using MDCT in consecutive 50 patients who were confirmed EGC by surgery. According to the pathologic specimen, seven patients had type I, ten had type IIa, five had type IIb, twelve had type IIc, eleven had type II a + IIc, and five had type III. CT scans (Sensation 4, Siemens Medical System, Forchheim, Germany) were obtained after injection of anti-peristaltic agent and gaseous distension of the stomach. Scanning parameters were as follows: detector collimation, 2.5mm; table feed 15mm; pitch, 6; reconstruction interval, 1.5mm. Unenhanced image were obtained in prone position and contrast enhanced image in supine position. After scanning, 3D CT by use of multiplanar reconstruction (MPR) and virtual gastroscopy (VG) was processed on a workstation using soft ware (Leonardo, Siemens Medical System, Forchheim, Germany). All CT image were analyzed by two radiologists who were blind to the clinical information to assess the location and gross morphologic type of EGC. Results: With use of 2D image, 36 of 50 tumors (72%) were detected. Tumors were not detected in 14 patients (type I, 1; type IIa, 3; type IIb, 5; type IIc, 3; type II a + IIc, 1; type III, 1). It located in antrum (n=7), angle (n=4), and body (n=3). With use of 3D image, 44 of 50 tumors (88%) were detected. 3D CT depicted EGC in eight patients (type I, 1; type IIa, 3; type IIb, 1; type IIc, 2; type II a + IIc, 1) that missed in 2D CT. It located in antrum (n=6), angle (n=1), body (n=1). But, EGCs type IIb (n=4) and EGCs located in gastric angle (n=3) were frequently misdiagnosed on 3D CT. Conclusion: 3D CT using MPR and VG showed excellent result in detection and characterizations of EGC. But, it has a limitations for EGC type IIb or gastric angle tumor. Questions about this event email: junghkim@hosp.sch.ac.kr
Kim MD, J, Performance Characteristics of 3D CT Using Multi-detector CT in Early Gastric Cancer Compared with 2D CT. Radiological Society of North America 2003 Scientific Assembly and Annual Meeting, November 30 - December 5, 2003 ,Chicago IL.
http://archive.rsna.org/2003/3103144.html