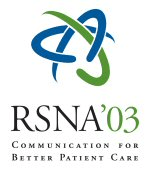 Abstract Archives of the RSNA, 2003
Melvin Deutsch MD,
PRESENTER: Nothing to Disclose
Abstract: HTML Purpose: This is a retrospective review to determine tolerance and outcome of external beam radiotherapy for treatment of primary carcinoma of the prostate in men over age 80 years. Methods and Materials: Thirty-three patients, all at least 80 years old, were treated with external beam radiotherapy for primary carcinoma of the prostate. The pre-radiotherapy PSA varied from 6.6 to 91 (median 15.6). Only six patients had a pre-therapy PSA level below 10. In eleven patients, pathology revealed adenocarcinoma, Gleason grade 8 or above. Five patients had a Gleason grade 7 adenocarcinoma, thirteen had Gleason grade 6 adenocarcinoma, and in four the Gleason grade was unknown. Thirteen patients (39%) received hormonal therapy prior to, and during, radiotherapy. Thirty-two patients received a total radiation dose of 6300-7560 cGy at 180-200 cGy per day. One patient was treated with split course radiotherapy to a dose of 5500 cGy in 22 fractions. Results: Radiotherapy was well tolerated in all patients and there were no unusual or prolonged interruptions in therapy. Nineteen patients (57.6%) are alive 23-98 months from completion of radiotherapy. Thirteen patients are alive free of disease 23-83 months (median 47 months) and six patients are alive with evidence of progression (elevation in PSA) 44-98 months. Fourteen patients died 2-138 months from completion of radiotherapy. Five died without any evidence of disease at 16-138 months. Four patients definitely died with progressive prostate cancer at 11-27 months and in five patients the status of disease at death, 2-103 months, was unknown. The actuarial overall survival at five years was 60.8%. Conclusion: Elderly patients, over 80 years of age, with prostate cancer tolerate prostate irradiation well. The overall survival of 60.8% at 5 years suggests that the elderly patient with a good performance status be strongly considered for high dose prostate irradiation. Questions about this event email: deutschm@msx.upmc.edu
Deutsch MD, M, External Beam Radiotherapy as Treatment for Primary Prostate Cancer in Very Elderly Patients. Radiological Society of North America 2003 Scientific Assembly and Annual Meeting, November 30 - December 5, 2003 ,Chicago IL.
http://archive.rsna.org/2003/3102755.html