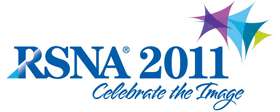 Abstract Archives of the RSNA, 2011
LL-INS-WE7B
A Vision for Radiology Structured Reporting
Scientific Informal (Poster) Presentations
Presented on November 30, 2011
Presented as part of LL-INS-WE: Informatics
David Joseph Vining MD,
Presenter: Royalties, Bracco Group
Apostolia Maria Tsimberidou MD, PhD,
Abstract Co-Author: Research funded, Cephalon, Inc Research funded, sanofi-aventis Group Research funded, Celgene Corporation Advisory Board, Cephalon, Inc Advisory Board, sanofi-aventis Group
Naveen Garg MD,
Abstract Co-Author: Nothing to Disclose
Mia Kathleen Markey PhD,
Abstract Co-Author: Researcher, Hologic, Inc
Tejaswini Ganapathi MS,
Abstract Co-Author: Nothing to Disclose
Jihong Wang PhD,
Abstract Co-Author: Nothing to Disclose
Radu Rosu,
Abstract Co-Author: Nothing to Disclose
Mihai Jurca,
Abstract Co-Author: Nothing to Disclose
Iulian Aghenitei,
Abstract Co-Author: Nothing to Disclose
The ViSion system allows a radiologist to "view" and "speak" naturally about image findings while generating a multimedia structured report.
The need for structured reporting (SR) is paramount as evidenced by the RSNA's own radiology reporting initiative. However, a major hurdle for SR developers is to create a process that fits into a radiologist's natural workflow of "viewing" and "speaking" about image findings. We have created such a system, called ViSion, which generates a multimedia SR without significantly altering a radiologist's workflow.
The ViSion system consists of a client-server software arrangement. The client operates in parallel with any vendor's PACS software running on a Windows platform. The client performs screen captures and audio recordings, triggered by the radiologist's press of a microphone button, as he/she views images on the PACS workstation. The data are transmitted to the server for processing which associates metadata (i.e., anatomy and pathology terms) with key images to create "image findings." The server organizes the data by anatomical locations in a unique graphical display of a patient with superimposed image findings. Furthermore, the system provides the ability to link image findings between serial examinations in order to generate disease timelines.
SR is essential as radiology reporting is transformed from a qualitative to quantitative process. ViSion reporting allows radiologists to practice in a natural fashion without significant behavioral modification. The use of screen captures simplifies the system interface to PACS, especially when application programming interfaces are unavailable for accessing DICOM image data. ViSion offers many additional benefits including data mining of radiologic information, automatic translation of reports using standardized lexicons, and audit trails of any modifications to prior findings. Future integration of ViSion with DICOM SR and other industry standards should improve its interoperability with electronic medical records.
Vining, D, Tsimberidou, A, Garg, N, Markey, M, Ganapathi, T, Wang, J, Rosu, R, Jurca, M, Aghenitei, I, A Vision for Radiology Structured Reporting. Radiological Society of North America 2011 Scientific Assembly and Annual Meeting, November 26 - December 2, 2011 ,Chicago IL.
http://archive.rsna.org/2011/11034318.html