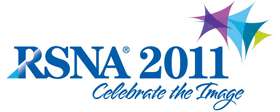 Abstract Archives of the RSNA, 2011
Francesca Lacelli MD,
Abstract Co-Author: Nothing to Disclose
Luca Maria Sconfienza MD,
Presenter: Nothing to Disclose
Marta Baglietto MD,
Abstract Co-Author: Nothing to Disclose
Giovanni Serafini MD,
Abstract Co-Author: Nothing to Disclose
The efficacy of PRP in the treatment and healing of chronic tendinopathies, by stimulating cell proliferation and total collagen production, has been demonstrated both in vitro and in vivo clinical studies. The aim of this study is to evaluate the effectiveness of US-guided autologous PRP injection in patellar and Achilles tendinopathies.
Autologous PRP was injected under US-guidance into the Achilles and patellar tendons (24 Achilles tendons, 18 patellar tendons) in 40 prospectively selected patients (21 males, 21 females, mean age 38±14 years, range 16-16 years). All patients were previously evaluate with Victoria Institute of Sport Assessment (VISA) scale, which evaluate pain score and activity level, and US of the tendon before the treatment and after 2,6, and 12 months. K and Wilcoxon statistics were used.
Thirty days after PRP injection there was a significant improvement in clinical symptoms. The VISA scale improved from a median baseline of 27 to 94 at 12 month (p<.01). Ultrasound evaluation reported a reduction of tendon swelling in 39 tendons (93%) together with a widespread improvement of tendon fibrillar echotexture. In 2 tendons (5%) there was a relief from clinical symptoms without significant changes in tendons appearance. In 1 tendon (2%) both clinical and imaging results were poor (p<.01).
PRP injections in patellar and Achilles tendinopathies allow a significant and enduring improvement of clinical symptoms and determine a recovery of tendon matrix in order to prevent degenerative lesions. US guidance allows for injecting the PRP inside the tendon with high accuracy.
US guidance allows for an accurate injection of PRP into Achilles and patellar tendon, enabling to avoid treatment failure due to incorrect PRP delivery.
Lacelli, F, Sconfienza, L, Baglietto, M, Serafini, G, US-guided Autologous Platelet Rich Plasma (PRP) Injection in Patellar and Achilles Chronic Tendinopathies. Radiological Society of North America 2011 Scientific Assembly and Annual Meeting, November 26 - December 2, 2011 ,Chicago IL.
http://archive.rsna.org/2011/11011079.html