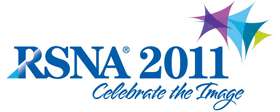 Abstract Archives of the RSNA, 2011
LL-INS-TU5A
Use of Multimedia Structured Reporting to Optimize the Monitoring of Tumor Response to Anticancer Therapy
Scientific Informal (Poster) Presentations
Presented on November 29, 2011
Presented as part of LL-INS-TU: Informatics
David Joseph Vining MD,
Presenter: Royalties, Bracco Group
Apostolia Maria Tsimberidou MD, PhD,
Abstract Co-Author: Research funded, Cephalon, Inc Research funded, sanofi-aventis Group Research funded, Celgene Corporation Advisory Board, Cephalon, Inc Advisory Board, sanofi-aventis Group
Naveen Garg MD,
Abstract Co-Author: Nothing to Disclose
Radu Rosu,
Abstract Co-Author: Nothing to Disclose
Mihai Jurca,
Abstract Co-Author: Nothing to Disclose
Iulian Aghenitei,
Abstract Co-Author: Nothing to Disclose
Jihong Wang PhD,
Abstract Co-Author: Nothing to Disclose
Response Evaluation Criteria in Solid Tumors (RECIST) guidelines are used to assess patient response to anticancer therapy. However, radiologists often fail to accurately report target lesions, perform tumor measurements, and/or compare more than two serial exams. To improve the radiologic evaluation of tumor response, we developed a structured reporting software system, called ViSion, which can capture a radiologist's measurements and key images in an efficient manner to generate disease timelines and automate the application of RECIST criteria.
We analyzed the baseline and subsequent radiology reports from ten patients with advanced cancer treated in a Phase I Program to determine if radiologists reported tumor measurements, saved measurements in PACS, and whether there was correlation of tumor metrics between the two examinations. In addition, we created a structured reporting solution that uploads screen captures and audio descriptions of image findings from a radiology workstation to a computer server where each finding is labeled with anatomy and pathology terms, organized in a database, and presented as a multimedia structured report. The reporting system was designed to link image findings from serial radiologic studies from which RECIST calculations are automated.
The analysis of baseline and subsequent radiology reports revealed that radiologists reported measurements in 90% of cases, saved measurements in PACS in 20% of baseline and 50% of follow up studies, and correlation of measurements between the two examinations occurred in 40%. The application of the ViSion reporting method to the same set of examinations enabled a means to record consistent tumor measurements in 100% of cases by providing a visual record of where target lesions were previously measured, facilitating the linking of image findings between serial examinations, and displaying the linked findings in graphical disease timelines.
The ViSion reporting system provides a means for more reproducible correlation of serial imaging studies during the entire course of a tumor's response assessment.
The use of multimedia structured reporting in clinical practice may increase the accuracy of tumor measurements and optimize the therapeutic management of patients with cancer.
Vining, D, Tsimberidou, A, Garg, N, Rosu, R, Jurca, M, Aghenitei, I, Wang, J, Use of Multimedia Structured Reporting to Optimize the Monitoring of Tumor Response to Anticancer Therapy. Radiological Society of North America 2011 Scientific Assembly and Annual Meeting, November 26 - December 2, 2011 ,Chicago IL.
http://archive.rsna.org/2011/11010396.html