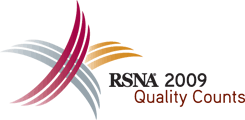 Abstract Archives of the RSNA, 2009
LL-NM2035-L06
Clinical FDG PET CT in the Investigation of Suspected Inflammatory and Infective Conditions
Scientific Posters
Presented on December 2, 2009
Presented as part of LL-NM-L: Nuclear Medicine
Eleanor Lorenz MBCHB, FRCR,
Presenter: Nothing to Disclose
Surabhi Wig,
Abstract Co-Author: Nothing to Disclose
Vineet Prakash MBChB,
Abstract Co-Author: Nothing to Disclose
F18 FDG PET CT is an established molecular imaging technique most commonly used in the diagnosis and staging of oncological conditions. A rapidly growing clinical application of PET CT is in the investigation of inflammatory and infectious diseases. A review of PET CT scans performed in a tertiary referal centre is presented illustrating its applications and clinical value in the evaluation of suspected or known inflammatory conditions.
a retrospective case review of 59 patients was carried out. all patients underwent PET CT scanning after multiple diagnostic investigations failed to determine a diagnosis.
PET CT was useful in all 59 cases; revealing malignancy in 11 (2 of whom had associated myositis), systemic vasculitis in 9, inflammatory arthropathy in 5, infectious/other inflammatory process in 8 and helped to exclude malignant or inflammatory process in 26 patients.
F18 FDG PET CT has the potential to develop into a valuable tool in the diagnostic work up of a variety of infectious, inflammatory and paraneoplastic type conditions. there is a growing body of evidence to support its earlier use in the investigation of patients presenting with these conditions, enabling earlier diagnosis and treatment.
FDG PET CT should be considered early in the diagnostic work up of patients with inflammatory type, often vague, symptoms and signs.
Lorenz, E, Wig, S, Prakash, V, Clinical FDG PET CT in the Investigation of Suspected Inflammatory and Infective Conditions. Radiological Society of North America 2009 Scientific Assembly and Annual Meeting, November 29 - December 4, 2009 ,Chicago IL.
http://archive.rsna.org/2009/8016558.html