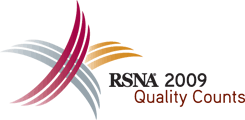 Abstract Archives of the RSNA, 2009
Vineet Prakash MBChB,
Presenter: Nothing to Disclose
Karsten Vestergaard MD,
Abstract Co-Author: Nothing to Disclose
Majbritt Frost,
Abstract Co-Author: Nothing to Disclose
Victor Vishwanath Iyer MD,
Abstract Co-Author: Nothing to Disclose
Elena Steffensen,
Abstract Co-Author: Nothing to Disclose
Elna-Marie B. Larsson MD, PhD,
Abstract Co-Author: Nothing to Disclose
Rune Fisker MD,
Abstract Co-Author: Nothing to Disclose
Dementia is a challenging clinical diagnosis. Compared with conventional clinical evaluations, F-18 Fluorodeoxyglucose (FDG) PET has been reported to improve not only the diagnostic accuracy of dementia but also help better define the underlying type. This is because FDG PET demonstrates metabolic patterns reflecting neuronal function specific to different dementias.To assess the impact of PET on a multidisciplinary dementia clinic for patients with suspected dementia by comparing it with the initial clinical evaluation and paraclinical tests.
So far we have included 16 patients (13 male: 3 female, average age 63 years) who had suspected dementia and/or unclear type of dementia of at least 6 months duration and were assessed in a neurologist led dementia clinic. All patients had MRI, including 7 with perfusion imaging. All patients had FDG-PET scans with visual and automated analyses. At a multidisciplinary meeting attended by a neuroradiologist and PET specialist, a pre-PET diagnosis, type of dementia and management plan was composed by a neurologist on the basis of clinical assessment, MRI, neuropsychometry and cerebrospinal fluid results. This process was repeated after PET review and the management plans were compared. Management impact was rated as nil (discordant result ignored), low (PET concordant but no change in management), moderate (PET changed diagnosis or dementia type or followup plan) and high (PET changed diagnosis from normal to dementia or vice versa).
Management impact was nil in 0 patients, low in 9, moderate in 7 and high in 0.The majority of these changes were of a moderate level influencing the type of dementia diagnosed.
F-18 FDG-PET changed management in 44 % of patients seen in a specialist mutlidisciplinary dementia clinic.PET has promising clinical value for management decisions in patients where clinical evaluations combined with lab CSF results and dedicated MR imaging are equivocal for Alzheimers or Frontotemporal dementia.
F18-FDG Brain PET with visual and automated analyses can be valuable in a diagnostic algorithim for the work up of dementia when the cause is uncertain.
Prakash, V, Vestergaard, K, Frost, M, Iyer, V, Steffensen, E, Larsson, E, Fisker, R, Impact of F-18 FDG-PET for the Clinical Multidisciplinary Evaluation of Dementia. Radiological Society of North America 2009 Scientific Assembly and Annual Meeting, November 29 - December 4, 2009 ,Chicago IL.
http://archive.rsna.org/2009/8010981.html