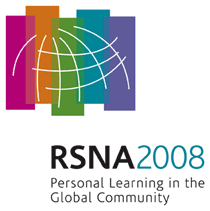 Abstract Archives of the RSNA, 2008
LL-RO4019-D10
Evaluating the Efficacy and Toxicity of Concurrent Chemotherapy with Accelerated Fractionation by Concomitant Boost (AFX-CB) Radiation Therapy in Locally Advanced Unresectable Head and Neck Squamous Cell Carcinoma Patients
Scientific Posters
Presented on December 1, 2008
Presented as part of LL-RO-D: Radiation Oncology and Radiobiology
Srivani Thatikonda MD,
Presenter: Nothing to Disclose
Eashwer K. Reddy MD,
Abstract Co-Author: Nothing to Disclose
Bruce F. Kimler PhD,
Abstract Co-Author: Research grant, Novartis AG Research grant, InterGenetics Incorporation Research grant, OncImmune, Ltd
Fen Wang MD, PhD,
Abstract Co-Author: Nothing to Disclose
RTOG 90-03 demonstrated improved local control and survival in locally advanced head and neck cancer patients with AFX-CB compared to standard or split course radiotherapy. We investigated the feasibility of combining AFX-CB with concurrent chemotherapy and to assess its outcome and toxicity in locally advanced head and neck cancer patients.
Between 1999 and 2006, 54 patients with newly diagnosed biopsy-proven locally advanced unresectable head and neck squamous cell carcinoma were treated with concurrent radiation chemotherapy definitively. Median age is 57 yrs.Patients were staged according to the American Joint Committee on Cancer (AJCC). 68% were stage IV A&B, 29% were stage III, and 3% were stage II. RT was delivered according to the AFX-CB: 1.8 Gy per fraction to all targets, once daily, to a total dose of 54 Gy. After 3.5 weeks, a boost to gross disease was delivered as a second daily fraction, at least 6 hours apart, 1.5Gy/fraction, for 12 treatments, to a total dose of 72 Gy over 6 weeks. 89% of patients received cisplatin based chemotherapy. All follow-up records at our institution from date of diagnosis were reviewed for the following endpoints: loco-regional control, distant control, overall survival, and treatment side effects
At a median follow up of 30 months 25% of patients had recurrence (both local and distant combined), and 75% were free of disease. Overall survival at 30 months follow up is 65%. Acute toxicity including skin reaction, mucositis, xerostomia were clinically acceptable.
Our results demonstrated that AFX-CB with concurrent chemotherapy is a feasible treatment regimen with acceptable toxicity. This needs to be confirmed in a large prospective randomized trial.
AFX-CB with concurrent chemotherapy can be considered in unresectable head and neck patients on individual patient basis
Thatikonda, S, Reddy, E, Kimler, B, Wang, F, Evaluating the Efficacy and Toxicity of Concurrent Chemotherapy with Accelerated Fractionation by Concomitant Boost (AFX-CB) Radiation Therapy in Locally Advanced Unresectable Head and Neck Squamous Cell Carcinoma Patients. Radiological Society of North America 2008 Scientific Assembly and Annual Meeting, February 18 - February 20, 2008 ,Chicago IL.
http://archive.rsna.org/2008/6017638.html