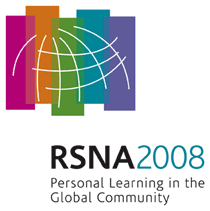 Abstract Archives of the RSNA, 2008
LL-GU2204-B02
Dedicated Testicular MRI (dtMRI) in Adults with Congenital Adreno-Genital Syndrome (AGS) and Testicular Adrenal Rest Tumors (TARTs): Correlation with Fertility
Scientific Posters
Presented on November 30, 2008
Presented as part of LL-GU-B: Genitourinary
Michael Karl Scherr MD,
Presenter: Nothing to Disclose
Nicole Reisch MD, PhD,
Abstract Co-Author: Nothing to Disclose
Ulrike Bartenhauser,
Abstract Co-Author: Nothing to Disclose
Martin Reincke MD, PhD,
Abstract Co-Author: Nothing to Disclose
Maximilian F. Reiser MD,
Abstract Co-Author: Nothing to Disclose
Ullrich G. Mueller-Lisse,
Abstract Co-Author: Nothing to Disclose
Testicular adrenal rest tumors (TARTs) and their influence on fertility are rare and occur in the small population of young males suffering from congenital adreno-genital syndrome (AGS). The aim of our study was to evaluate presence, extent, morphology, and influence on fertility of TARTs using contrast-enhanced, dedicated testicular MRI (dtMRI).
18 Patients with clinical and biochemical proven congenital AGS were examined at 1.5T (Magnetom Vision, Siemens, Erlangen). Patient age at time of MRI was 19 to 48 years (mean 30.8 years). Thin slice TSE series (3mm T1w cor/ax, T2w cor/ax and two consecutive T1w cor/ax after administration of Gd-DTPA contrast agent) were acquired using a 14 cm loop flex coil placed on the elevated testicles. MRI data were evaluated for TART presence, extent and relative signal intensity in pre and post contrast sequences compared to surrounding testicular parenchyma. Per slice segmentation and volume reconstruction of testes and presenting TARTs revealed reliable volumes of remaining functional testicular tissue. Semen analysis with sperm count was performed on the same day and correlated with volume of functional testicular tissue (Pearson test).
MRI revealed TARTs in 9/18 patients, with a total volume of 0.37 to 21.56 ccm of TART per patient, resulting in a functional testicular volume (i.e., testicular tissue not compromised by TART), of 11.86 to 35.25 ccm. Spermatozoal concentration (1 azoospermia, 8 patients with 0.8 to 187.2 million/ccm) correlated with remaining functional testicular volume (r=0.84, p<0.01). TARTs were cauliflower-shaped, hypointense on T2w images, isointense on unenhanced T1w images, markedly hyperintense immediately after Gd-DTPA administration with decreasing contrast in subsequent post-contrast series. The barycenter of TARTs was predominatly located adjacent to the rete testis.
TARTs in patients with congenital AGS are clearly visible at dtMRI. The remaining volume of functional testicular parenchyma correlates with spermatozoal count and, thus, with fertility. Interindividually, TARTs show almost uniform shape and testicular signal alterations in pre- and post-contrast series.
Fertility in males with AGS correlates with the extent of TARTs as shown by dtMRI. Relevance for follow-up under therapy and distinction from testicular malignoma require further investigation.
Scherr, M, Reisch, N, Bartenhauser, U, Reincke, M, Reiser, M, Mueller-Lisse, U, Dedicated Testicular MRI (dtMRI) in Adults with Congenital Adreno-Genital Syndrome (AGS) and Testicular Adrenal Rest Tumors (TARTs): Correlation with Fertility. Radiological Society of North America 2008 Scientific Assembly and Annual Meeting, February 18 - February 20, 2008 ,Chicago IL.
http://archive.rsna.org/2008/6014543.html