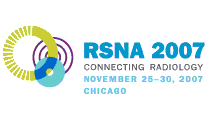 Abstract Archives of the RSNA, 2007
LL-GI5058
Perfecting the Rectal Enema: Use of Iodinated Contrast-Enema for Stool Tagging
Education Exhibits
Presented in 2007
David Joseph Vining MD,
Presenter: Royalties, E-Z-EM, Inc, Lake Success, NY
Saam Partovi Tabar MD,
Abstract Co-Author: Nothing to Disclose
Walter E. Kelley DO,
Abstract Co-Author: Nothing to Disclose
1. Understand the principles of stool tagging for virtual colonoscopy examinations. 2. Learn how to administer an iodinated-contrast enema and colonic insufflation with a single rectal intubation. 3. Realize the advantages of performing stool tagging via a rectal enema compared to oral administration of contrast agents.
1. Review of conventional methods employed for stool tagging. 2. Method and apparatus required to administer an iodinated water-soluble contrast enema in conjunction with gas insufflation of the colon. 3. Comparison of results from virtual colonoscopy patients who had received rectal versus oral routes of administration of iodinated-contrast agents.
The benefits of using an enema route of contrast administration for stool tagging are that it significantly reduces the time required to achieve opacification of liquid feces and that it achieves a more uniform distribution of contrast material compared to an oral route of administration.
Vining, D, Tabar, S, Kelley, W, Perfecting the Rectal Enema: Use of Iodinated Contrast-Enema for Stool Tagging. Radiological Society of North America 2007 Scientific Assembly and Annual Meeting, November 25 - November 30, 2007 ,Chicago IL.
http://archive.rsna.org/2007/5013814.html