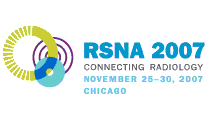 Abstract Archives of the RSNA, 2007
Yan Gao MD,
Presenter: Nothing to Disclose
Kun Cheng Li MD,
Abstract Co-Author: Nothing to Disclose
Xiangying Du MD,
Abstract Co-Author: Nothing to Disclose
Yun Shen PhD,
Abstract Co-Author: Employee, General Electric Company
To evaluate the clinical application value of 64 multi-detector row CT spinal angiography in the patients of Cobb syndrome disease.
Nine chidren were examined by digital subtraction angiograph and were diagnosed with Cobb syndrome based on the segmental cutaneous hemangioma and perispondylic arteriovenous hemangiomas and spinal arteriovenous malformation (AVM). A followed spinal CT angiography by 64 multi-detector row CT (GE LightSpeed VCT) was done. The parameters of the CT scan protocol were: 64x0.625 collimation, pitch 0.8, 680 mAs, 120 Kv, rotation time 0.35s, mean scan time 15s. Volume rendering, maximal intensity projection, multiplanar reformation were used to depict the lesion. The findings of CT angiography were compared with those of DSA. For the purpose of comparison of CTA with DSA in detecting the spinal arteries, statistical significance was determined using χ² test.
Spinal arteries that included vertebral artery, thyro-cervical trunk, costocervical trunk, intercostal arteries and lumbar arteries were revealed clearly to supply blood to the spinal AVMs ,dermatome and paravertebral hemangiomas by CTA. There was not statistically significant difference in detecting spinal arteries between CTA and DSA(P>0.05). Moreover, angioma of vertebral body that was difficult to be revealed and located by DSA could be diagnosed by CT examination. Three patients were treated with endovascular embolization and corticosteroid therapy. In the reexamined CTA imagies, the spinal arteries were seen embolismed.
From the comparative study between CTA and DSA on examination of spinal feeding arteries, it was proved that CTA had a high sensitivity in revealing the feeding arteries for Cobb syndrome disease.
Spinal CTA appears to be an excellent screening test for Cobb syndrome and can be used for follow up of endovascular embolization.
Gao, Y, Li, K, Du, X, Shen, Y, Comparative Study between 64 Multi-Detector Row CT Spinal Angiography and DSA in Diagnosing Cobb Syndrome. Radiological Society of North America 2007 Scientific Assembly and Annual Meeting, November 25 - November 30, 2007 ,Chicago IL.
http://archive.rsna.org/2007/5012982.html