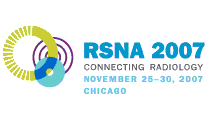 Abstract Archives of the RSNA, 2007
Edith Michelle Marom MD,
Abstract Co-Author: Nothing to Disclose
Mylene Thi MyTien Truong MD,
Presenter: Nothing to Disclose
Xiudong Lei PhD,
Abstract Co-Author: Nothing to Disclose
Carlos H. Martinez MD,
Abstract Co-Author: Nothing to Disclose
Roy S. Herbst MD,
Abstract Co-Author: Consultant, AstraZeneca PLC Consultant, Amgen Inc Consultant, Genentech, Inc Consultant, Bristol-Myers Squibb Company Research funded, AstraZeneca PLC
Amir Onn MD,
Abstract Co-Author: Nothing to Disclose
Bevacizumab and other antivascular agents (AVAs) may increase survival in patients with non-small-cell lung cancer (NSCLC), but in some cases result in fatal hemoptysis. Patients with squamous cell histology are precluded from some trials, and some fear that tumor cavitation may be related to fatal hemoptysis. To improve patient selection and monitoring during therapy of NSCLC patients on AVAs, we sought to determine the association between tumor cavitation and hemoptysis.
Retrospective analysis of all NSCLC patients treated with AVAs in our institution between 6/1998 and 6/2005. Clinical data were retrieved from medical records. Chest CT findings were documented by two experienced chest radiologists.
124 patients were treated in 10 different trials. All patients had advanced lung cancer and failed previous chemotherapy. Histology was: adenocarcinoma (n=96, including 21 with broncheoalveolar cell), squamous cell (n=17), large cell (n=3) and poorly differenetiated NSCLC (n=8). 17 patients developed tumor cavitation during the trial (median time to event 1.8 months), 16 patients had pre-existing cavitary tumors and 91 did not develop any cavitation. Cavity development was more common with squamous cell histology (p=0.04) but was not associated with hemoptysis (p=0.12), prior radiotherapy (p=0.71), progression free survival (p=0.56), or overall survival (p=0.33). Cavity formation was not associated with imaging findings: tumor location (central versus peripheral) (p≥0.82), size (p=0.49), contour (p=0.83), margin (p=1.0), or density (p=0.66). The presence of a cavity prior to AVA treatment was not associated with increased risk for hemoptysis (p=0.12), nor with progression free survival (p=0.76), or overall survival (p=0.57). One of five patients with hemoptysis was fatal in a cavitary squamous cell tumor.
Development of tumor cavitation is not rare in NSCLC patients treated with AVAs, cannot be predicted radiographically, but the clinical implications are minimal in most cases.
Cavitary NSCLC does not appear to have an increased risk of hemoptysis when treated with antivascular agents.
Marom, E, Truong, M, Lei, X, Martinez, C, Herbst, R, Onn, A, Cavitation and Hemoptysis in Lung Cancer Patients Receiving Antivascular Agents: A Radiological Assessment. Radiological Society of North America 2007 Scientific Assembly and Annual Meeting, November 25 - November 30, 2007 ,Chicago IL.
http://archive.rsna.org/2007/5009155.html