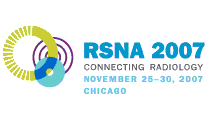 Abstract Archives of the RSNA, 2007
LL-CH3333-L
Radiology of Tuberculosis in the 21st Century: Lessons from Molecular Epidemiology
Education Exhibits
Presented on November 28, 2007
Anna Rozenshtein MD,
Presenter: Nothing to Disclose
Michael Starc,
Abstract Co-Author: Nothing to Disclose
Gregory D.N. Pearson MD, PhD,
Abstract Co-Author: Nothing to Disclose
1. To present new data gleaned from molecular epidemiology which challenges the classical dogma that primary and reactivation Tuberculosis (TB) can be differentiated by the radiographic appearance 2. To link the typical and atypical radiographic presentations of pulmonary TB with immunological status
1. Historical perspective of the understanding of TB before and during the AIDS epidemic 2. Review of the classical teaching of Primary (atypical) vs. Reactivation (typical) TB in adults with radiographic and CT correlations 3. Review of the recent molecular epidemiological data from large urban centers proving that the radiographic appearance of TB a)is not related to the time since infection and b)is related to the patient's immunologic status.
1. Radiographic appearance of TB in adults depends on the patient's immunological status, and is not related to the time since infection. 2. Typical appearance (apical disease, cavitation) is seen in immunocompetent patients, while atypical appearance (lower lung zone disease, adenopathy, effusions) in immunocompromised patients.
Rozenshtein, A, Starc, M, Pearson, G, Radiology of Tuberculosis in the 21st Century: Lessons from Molecular Epidemiology. Radiological Society of North America 2007 Scientific Assembly and Annual Meeting, November 25 - November 30, 2007 ,Chicago IL.
http://archive.rsna.org/2007/5008103.html