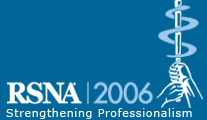 Abstract Archives of the RSNA, 2006
LL-RO4314-B02
Postoperative Interstitial Brachytherapy for Recurrent Keloid Scars: A Retrospective Study of 73 Cases
Scientific Posters
Presented on November 26, 2006
Presented as part of LLRO-B: Radiation Oncology and Radiobiology
Emmanuel Rio,
Presenter: Nothing to Disclose
Etienne Bardet,
Abstract Co-Author: Nothing to Disclose
Patrick Peuvrel,
Abstract Co-Author: Nothing to Disclose
Rio Emmanuel MD,
Abstract Co-Author: Nothing to Disclose
Michel Pannier,
Abstract Co-Author: Nothing to Disclose
Brigitte Dreno,
Abstract Co-Author: Nothing to Disclose
To analyse outcomes after early postoperative interstitial brachytherapy for recurrent keloids.
We performed a retrospective analysis of 58 patients treated for 73 keloids between 1991 and 2005 of 27 retroauricular grooves or earlobes (37%), 23 on the neck (32%), 12 on the trunk or abdomen (16%) and 11 on the limbs (15%). All this lesions were histologically confirmed and were recurrent after medical and/or surgical treatments. In all cases they were symptomatic (prurit, pain ,inflammation or oozing). Sixty-four keloids from 51 patients were reviewed to analyse local control and functional results.
Median age was 28 years (range 13-71). Sex ratio male: female was 3:2. The median dose was 20 Gy (range 15-40) with a mean after loading time of 4 hours (range 1-6) and a mean dose rate of 0.7 Gy/h (range 0.4-1). Local control was 86% (55/64) after a median follow-up of 44,5 months. The 9 relapses occurred precociously (median: 6 months, range (2.5-24)) : 3 on the trunk, 4 on the neck, 1 on the abdomen and only one in the retroauricular groove. Among them, we noted one local infection treated by antibiotics. The influence of dose on risk of recurrence was not statistically significant. Initial functional troubles disappeared for 54/55 (98%) of controlled keloids
20 Gy postoperative interstitial brachytherapy with early after loading represents an effective treatment and provides excellent functional results for recurrent keloids.
Rio, E, Bardet, E, Peuvrel, P, Emmanuel, R, Pannier, M, Dreno, B, Postoperative Interstitial Brachytherapy for Recurrent Keloid Scars: A Retrospective Study of 73 Cases. Radiological Society of North America 2006 Scientific Assembly and Annual Meeting, November 26 - December 1, 2006 ,Chicago IL.
http://archive.rsna.org/2006/8000575.html