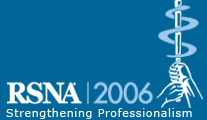 Abstract Archives of the RSNA, 2006
LL-PD4517
Multidetector CT Urography (MDCT Urography) in Pediatric Population: Technique, Applications, Limitations
Education Exhibits
Presented in 2006
Safiye Gurel MD,
Presenter: Nothing to Disclose
Kamil Gurel,
Abstract Co-Author: Nothing to Disclose
Efsun Sacide Senocak,
Abstract Co-Author: Nothing to Disclose
Erdal Karavas MD,PhD,
Abstract Co-Author: Nothing to Disclose
1.To describe MDCT urography technique with its basic principles and modifications in pediatric population 2. To discuss advantages and disadvantages of the technique and illustrate various examples from children of different age groups in comparison with ultrasonography and voiding cystouretrography
Recent advances in CT technology have provided imagers obtaining a large number of very thin axial images in a very short period of time.This feature resulted in a number of new applications for MDCT, one of which is CT urography. The primary aim in performing MDCT urography is to create a single imaging test that can completely assess the urinary system pathologies. Its application in children requires being very meticulous in indications and technique because of risks of ionizing radiation.
MDCT urography is an effective method in the evaluation of urinary system pathologies such as urolithiasis and complex congenital anomalies. Selection of patients with appropriate indications, cautious determination of CT parameters considering benefit/cost in terms of radiation, make it a practical diagnostic tool with all facilites of cross-sectional imaging in pediatric population. In this exhibit, we illustrate various examples from studies collected in our institution in the past 2 years.
Gurel, S, Gurel, K, Senocak, E, Karavas, E, Multidetector CT Urography (MDCT Urography) in Pediatric Population: Technique, Applications, Limitations. Radiological Society of North America 2006 Scientific Assembly and Annual Meeting, November 26 - December 1, 2006 ,Chicago IL.
http://archive.rsna.org/2006/4432416.html