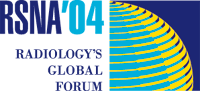 Abstract Archives of the RSNA, 2004
Mercedes Torres MD,
Presenter: Nothing to Disclose
Rafael Ruiz-Cruces RN,
Abstract Co-Author: Nothing to Disclose
Mercedes Acebal MD,
Abstract Co-Author: Nothing to Disclose
Isabel Rodrigo,
Abstract Co-Author: Nothing to Disclose
Angela Escobar,
Abstract Co-Author: Nothing to Disclose
Alicia Lopez,
Abstract Co-Author: Nothing to Disclose
Diagnostic process of breast pathology requires several surgical consultations and diagnostic tests appointments. We developed an organizational strategy based on the direct referral of patients to Radiology Department from General Practitioners to reduce surgical consultations and economic costs previously to management decision making.
Clinical information of patients was submitted directly from General Practitioners to the Department of Radiology previously to surgical consultation. The documents were classified at the radiology department, according to age, family history and clinical suspicion prior to scheduling. Once in radiology, all diagnostic tests were performed by the same radiologist who was responsible of the radio-pathologic diagnostic process. Patients who required surgery were submitted for surgical consultation. Normal and low suspicion findings returned to primary care. We analyzed the impact on 9,188 patients in a five year period. Reduction of surgical consultations and economic costs were calculated by comparing actual results with estimates if all patients were referred for surgical consultation. Costs estimations were carried-out applying fares published by the Regional Government Health Service.
A total of 15,781 surgical consultations were avoided (average of 1.72 less per patient) and total reduction of costs was $748,455 ($81.50 less per patient). These results supposed an 85.9% reduction of surgical consultations and 48.8% of economic costs.
Radiology departments play an important role in the development of new strategies to improve patient care and can have a positive impact in economic costs.
Torres, M, Ruiz-Cruces, R, Acebal, M, Rodrigo, I, Escobar, A, Lopez, A, Direct Referral of Breast Pathology to Radiology Departments: Impact on Reduction of Surgical Consultations and Economic Costs. Radiological Society of North America 2004 Scientific Assembly and Annual Meeting, November 28 - December 3, 2004 ,Chicago IL.
http://archive.rsna.org/2004/4403148.html