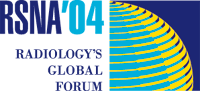 Abstract Archives of the RSNA, 2004
SSK07-02
Color Doppler Ultrasound Assessment of External Carotid Artery Collateral Circulation in Patients with Chronic Internal Carotid Artery Occlusion: Review of 25 Patients with Angiographic Correlation
Scientific Papers
Presented on December 1, 2004
Presented as part of SSK07: Ultrasound (Imaging above the Clavicles)
Justin Aaron Siegal MD,
Presenter: Nothing to Disclose
Mehran Fotoohi MD,
Abstract Co-Author: Nothing to Disclose
Lynn Wiitala,
Abstract Co-Author: Nothing to Disclose
Beverly Emiko Hashimoto MD,
Abstract Co-Author: Nothing to Disclose
In the US there are approximately 730,000 strokes annually. Carotid artery occlusion is found in 10-15% of patients with carotid artery territory stroke or transient ischemic attack. In symptomatic patients with carotid occlusive disease the annual risk of ipsilateral stroke is 6%. For patients with chronic carotid occlusive disease, collateral circulation has been associated with improved prognosis. We sought to assess the role of Doppler US at identifying collateral flow in patients with unilateral chronic carotid occlusive disease.
3029 carotid Doppler US reports (2810 patients) were reviewed from a 20 month period. 101 patients were identified with US diagnoses of carotid occlusion; 25 of these patients had undergone cerebral angiography. Ultrasound images were reviewed for these 25 patients and vascular indices were recorded. Angiogram reports and images were reviewed and collateral circulation and stenosis data were recorded.
Low resistance indices (RI) in the ipsilateral external carotid artery (ECA) were associated with ECA collaterals (mean ECA RI with collaterals 0.77+-0.12 versus 0.88+-0.10 without collaterals, PUS vascular indices significantly overestimated contralateral degree of ICA stenosis in 6 patients. In 5 of these 6 patients, there was significant ACOM cross filling. In the 6th patient, the ICA was noted to be tortuous on angiography. In these 6 patients, review of the color Doppler ICA images gives an appropriate assessment of stenosis.
In patients with chronic carotid artery occlusions, carotid Doppler US may be useful in identifying the presence of ECA collaterals through identification of low resistance ECA waveforms. However, caution must be exercised in assessing degree of contralateral ICA stenosis: typically there is compensatory increased flow resulting in an overestimation of contralateral disease. Evaluation of color Doppler ICA images may help to clarify the degree of contralateral stenosis.
Siegal, J, Fotoohi, M, Wiitala, L, Hashimoto, B, Color Doppler Ultrasound Assessment of External Carotid Artery Collateral Circulation in Patients with Chronic Internal Carotid Artery Occlusion: Review of 25 Patients with Angiographic Correlation. Radiological Society of North America 2004 Scientific Assembly and Annual Meeting, November 28 - December 3, 2004 ,Chicago IL.
http://archive.rsna.org/2004/4403136.html