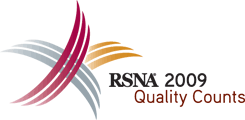 Abstract Archives of the RSNA, 2009
SSC10-02
Subjects with Higher Physical Activity Levels Have More Severe Focal Knee Lesions Diagnosed with 3T MRI: Analysis of the Non Symptomatic Incidence Cohort of the Osteoarthritis Initiative
Scientific Papers
Presented on November 30, 2009
Presented as part of SSC10: Musculoskeletal (Knee Disorders)
Christoph Stehling MD,
Presenter: Nothing to Disclose
Nancy E Lane,
Abstract Co-Author: Nothing to Disclose
Michael C. Nevitt PhD,
Abstract Co-Author: Nothing to Disclose
Charles E. McCulloch,
Abstract Co-Author: Nothing to Disclose
Thomas M. Link MD,
Abstract Co-Author: Research grant, Merck & Co, Inc
To study prevalence of focal knee abnormalities using 3.0 Tesla MR studies in relation to physical activity levels in asymptomatic, middle-aged subjects from the Osteoarthritis Initiative (OAI) incidence cohort.
We analyzed 236 45–55 years old individuals (136 women, 100 men) without knee pain (based on WOMAC scores) and a BMI of 19–27. Physical activity levels were determined in all subjects with the Physical Activity Scale for the Elderly (PASE). MRI at 3.0T was performed using coronal intermediate-weighted (IW) 2D fast spin-echo (FSE), sagittal 3D dual-echo in steady state (DESS) and 2D IW fat-suppressed (fs) FSE sequences of the right knee. All images were analyzed by two musculoskeletal radiologists identifying and grading cartilage, meniscal, ligamentous and other knee abnormalities with WORMS scores. Statistical significances between subjects with different activity levels were determined using Student's T, ANOVA, ChiSquare and correlation coefficient tests.
Meniscal lesions were found in 47% of the 236 subjects, cartilage lesions in 74.6%, bone marrow edema pattern in 40.3% and ligament lesions in 17%. When separating subjects according to their activity levels, in a low (PASE: 27-155), middle (PASE: 156-230) and a high PASE scale group (231-409), an increasing incidence of abnormalities was found. Grade of cartilage lesions was also associated with PASE levels and presence of other knee abnormalities was also significantly associated with presence of cartilage defects.
Middle-aged non-symptomatic individuals from the OAI incidence cohort had a high prevalence of knee abnormalities including cartilage and meniscus lesions. Individuals with higher PASE showed a significantly higher number and grade of knee abnormalities.
These results suggest that subjects with higher physical activity levels may be at greater risk for cartilage and meniscal abnormalities and thus higher risk for developing Osteoarthritis (OA).
Stehling, C, Lane, N, Nevitt, M, McCulloch, C, Link, T, Subjects with Higher Physical Activity Levels Have More Severe Focal Knee Lesions Diagnosed with 3T MRI: Analysis of the Non Symptomatic Incidence Cohort of the Osteoarthritis Initiative. Radiological Society of North America 2009 Scientific Assembly and Annual Meeting, November 29 - December 4, 2009 ,Chicago IL.
http://archive.rsna.org/2009/8007645.html